News story
New appointment to the Reviewing Committee on the Export of Works of Art and Objects of Cultural Interest
Maria Miller appoints Sir Hayden Phillips GCB DL as Chairman of the Reviewing Committee on the Export of Works of Art and Objects of Cultural Interest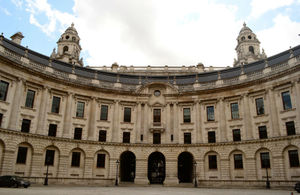 Culture Secretary Maria Miller has appointed Sir Hayden for five years, from 17 March 2014.
Biographical details
Sir Hayden Phillips is the Independent Reviewer of the Adjudications of the Advertising Standards Authority. He is also a Director of Westhouse Holdings, of St Just Farms Ltd and of the Energy Saving Trust; and Chairman of the Digital Cinema Funding Partnership. He is a Deputy Lieutenant of Wiltshire, a Lay Canon of Salisbury Cathedral and Chairman of its Fabric Advisory Committee. He was Chairman of the National Theatre from 2004 to 2010.
Sir Hayden's previous career was in the Civil Service, latterly heading two Departments as Permanent Secretary – the Department for Culture, Media and Sport from 1992 to 1998, and the Lord Chancellor's Department (now the Ministry of Justice) from 1998 to 2004. He has recently been invited to chair the selection process for the board of the new Independent Press Standards Organisation.
About the Reviewing Committee
The Reviewing Committee on the Export of Works of Art & Objects of Cultural Interest (RCEWA) was established in 1952. Its terms of reference are:
to advise on the principles which should govern the control of export of objects of cultural interest under the Export Control Act 2002 and on the operation of the export control system generally
to advise the Secretary of State on all cases where refusal of an export licence for an object of cultural interest is suggested on grounds of national importance
to advise in cases where a special Exchequer grant is needed towards the purchase of an object that would otherwise be exported
The Committee is made up of eight permanent members who have expertise in one or more fields (paintings, decorative arts, manuscripts, archaeology etc). Together they come to an objective view whether the objects brought before them are national treasures, and provide policy advice to the Secretary of State for the Department for Culture, Media and Sport.
Published 6 March 2014