News story
New appointment
Baroness Angela Browning has been appointed Lords minister of state at the Home Office.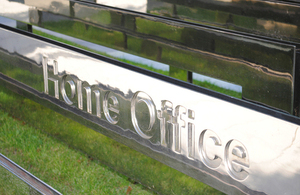 This news comes as Baroness Pauline Neville Jones today stepped down as minister of state for security and counter-terrorism.
Read the press notice on the Number Ten website.
Baroness Browning is a Conservative Party peer.
 She was the Member of Parliament (MP) for Tiverton and Honiton from 1997 to 2010, having previously been MP for Tiverton from 1992 to 1997.
From 1994 to 1997, she was parliamentary secretary in the Ministry of Agriculture, Fisheries and Food.
Welcome to the department
Home Secretary Theresa May said: 'I am delighted to welcome Baroness Browning to the Home Office and look forward to working with her to deliver our key priorities. 
 
'I would like to thank Baroness Neville-Jones for her hard work, both in opposition and in government, contributing to the rebalancing of security and liberty as well as participating in the work of the National Security Council.'
The Prime Minister has appointed Baroness Neville-Jones as special representative to business on cyber security.
Full details of ministerial responsibilities at the Home Office will be announced shortly.
Published 9 May 2011