New airmen and women for the New Year
A group of 68 recruits have become the newest airmen and women of the Royal Air Force this year.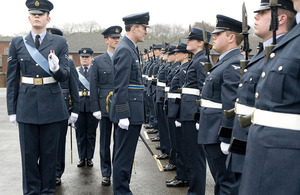 Marching onto the parade square at RAF Halton the airmen and women aged from 16 years upwards graduated in front of friends and family members having completed their Phase 1 training.
Amongst those graduating from Halton's Recruit Training Squadron programme was Aircraftwoman Lyndsey Hallam, 22, from Kent. She said:
I've really enjoyed my time here. The part of training that I liked most was initial force protection training and the field exercise.
Aircraftwoman Hallam will now move to Southwick Park to commence training in personnel support.
The training at RAF Halton is designed to take new recruits and transform them into Service personnel fit for operations by laying the foundations that they will build on throughout their careers.
Group Captain Mark Heffron, Station Commander of RAF High Wycombe, inspected the graduating intake and, accompanied by the Station Commander of RAF Halton and the Lord-Lieutenant of Buckinghamshire, received the salute as a Tucano from 72 Squadron, RAF Linton-on-Ouse, flew overhead.
Group Captain Heffron said:
It's an honour to review the passing out of these new airmen and women into the Royal Air Force. We are now taking only the very best applicants, making the selection process tough.
The training they have just undertaken is very demanding and many of them will find themselves on operations soon after they complete their specialist training.
These young men and women are the future of the Royal Air Force and I wish each and every one of them the very best of luck in their next stage of training.
The Recruit Training Squadron Warrant Officer, Paul Wheable, said:
Today has marked the first of many achievements that these new airmen and women will attain throughout their future in the Royal Air Force.
They have been trained and tested both mentally and physically and are now in a position to embark upon specialist training that will prepare them fully for the operational demands of today's Armed Forces.
RAF Halton, in Buckinghamshire, is where all new Royal Air Force recruits, with the exception of those joining the RAF Regiment, undergo initial basic training. Carefully structured, the nine-week course builds qualities such as robustness, resilience, discipline, respect and integrity.
Published 27 January 2012