Press release
New agreement to help UK companies win work at Tokyo Olympics
Memorandum of Cooperation between the UK and Japan on the planning of the Tokyo 2020 Olympics and the 2019 Rugby World Cup to be signed.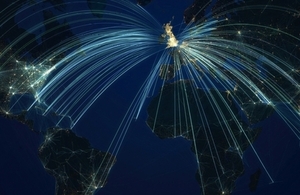 The Japanese Prime Minister Shinzo Abe will visit the Olympic Park tomorrow (Friday 2 May 2014) to witness the signing of a Memorandum of Cooperation paving the way for close collaboration between the UK and Japan on the planning of the Tokyo 2020 Olympics and the 2019 Rugby World Cup.
The vote of confidence in the ability of UK companies to deliver on major projects comes as the amount of economic benefit the UK has received from the London 2012 Olympics breaks through the £13 billion mark.
The Tokyo Games are potentially worth millions to the UK economy and could benefit small and medium sized businesses throughout the supply chain.
UK companies have already won £130 million of contracts for the Brazil 2014 World Cup and the Rio 2016 Olympic and Paralympic Games. More than 60 UK companies also won contracts for the Sochi 2014 Winter Olympics, most of them mid-sized businesses.
Trade and Investment Minister Lord Livingston said:
I am delighted that Japan has signalled that it wants to use UK expertise to help deliver both the Tokyo Olympics and Rugby World Cup. The delivery of London 2012 on time and under budget has shown the world that the UK has a significant amount of expertise in staging large scale events.

Businesses can get in touch with UK Trade and Investment, who can provide support and advice on the opportunities available.
Bilateral trade between the UK and Japan was worth £22.5 billion in 2011. In total, 1,300 Japanese companies directly employ over 140,000 people in the UK, plus tens of thousands more jobs in the supply chains.
Also today (1 May 2014), Japan's largest mobile service operator NTT Docomo has announced its first European investment of nearly £5 million into Tech City based start-up Certivox.
Welcoming the investment, Lord Livingston said:
The UK is the top destination in Europe for Japanese investment. Today's (1 May 2014) deal with Certivox is 1 of many high-value Japanese investments UKTI is working to attract in the fields of low carbon infrastructure, advanced engineering and information communication technologies.
Notes to editors:
1.The government's long term vision for the legacy of the Olympic Games aims to use the inspirational power of 2012, and future major sporting events, to set the long term ambitions for delivering lasting change in sport, our communities, the economy, regeneration of east London and driving forward the cause of disability equality. Just as the Games took 10 years to win, plan and deliver, so legacy must be seen as a 10-year project to realise lasting change and growth - UKTI's efforts in securing a long term economic benefit increasing exports and attracting investment is part of this vision.
2. About UKTI
UK Trade and Investment (UKTI) is the government department that helps UK-based companies succeed in the global economy. We also help overseas companies bring their high quality investment to the UK's economy – acknowledged as Europe's best place from which to succeed in global business. UKTI offers expertise and contacts through its extensive network of specialists in the UK, and in British embassies and other diplomatic offices around the world. We provide companies with the tools they require to be competitive on the world stage. For more information on UKTI, visit www.gov.uk/ukti.
3. About CertiVox
CertiVox Ltd, based in London, UK, was founded to deliver a secure, federated, online strong authentication platform to enable trust in online identities and transactions. The company is lead by a team of security industry veterans from nCipher, McAfee, RSA, and Thales. For more information, visit www.certivox.com.
4. About NTT DOCOMO
NTT DOCOMO, Japan's largest mobile service provider, serves more than 60 million customers with a high-quality nationwide 3G network and an ultra-high-speed LTE network that will be available to more than 98% of Japan's population by FY2014. DOCOMO is a unique operator that manages R&D centers worldwide to develop technologies centered on mobility that enable subscribers to use handsets for NFC payments, GPS, TV, personal assistance, cloud solutions, smart grid management and much more. Outside Japan, the company provides technical and operational expertise to 8 mobile operators and a growing range of other partner companies. DOCOMO, whose name implies "mobility anywhere," is based in central in Tokyo and headed by President and CEO Kaoru Kato. The company is listed on the Tokyo and New York (DCM) stock exchanges.
Published 1 May 2014