New £6.5 million railway station to be built in Derbyshire
Derbyshire get £6.5 million for new railway station.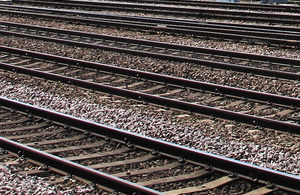 Plans for a new railway £6.5 million station in Derbyshire were unveiled today by Transport Secretary Patrick McLoughlin.
The new station at Ilkeston was given the green light alongside 3 other stations in the UK after successfully applying for funding under the New Station Fund.
The fund is part of £37 billion worth of investment spent from 2014 to 2019, which will modernise the railways and provide massive benefits to both passengers and the UK economy.
Transport Secretary Patrick McLoughlin said:
Funding this new station illustrates our commitment to working with community and national partners to meet local transport needs that not only deliver real benefits to passengers but also improves the network.

This is another example of the government's determination to transform the railways as we continue to push forward with the biggest programme of rail investment ever.
The fund, managed by Network Rail, was announced at the end of January when local authorities, train operating companies and developers were invited to bid for funding towards the construction costs of brand new stations.
The successful bids announced today are:
Ilkeston, Derbyshire, which will receive over £4.5 million of DfT funding towards a scheme worth over £6.5 million
Newcourt, Devon, where the DfT will pay for around half of the scheme expected to cost in the region of £1.5 million
Lea Bridge, London Borough of Waltham Forest, which will receive over £1 million towards a scheme worth in excess of £6.5 million
Pye Corner, Newport, which will receive over £2.5 million towards a scheme worth over £3.5 million
Scheme sponsor Derbyshire County Council will now work with Network Rail to finalise the Ilkeston station plans with the new station planned to open before the end of 2014.
Notes to editors:
Details on each of the stations are as follows:
Ilkeston
Ilkeston is located on the Erewash Valley line between Nottingham and Langley Mill. The station will consist of 2 platforms sufficient to accommodate trains up to 6 passenger cars and will include waiting shelters. A new car park will be provided which will accommodates 150 parking spaces, including disabled parking, cycle storage, drop off point and taxi rank. Provision will also be made for a bus stop. Ramped and stepped access will be provided from the new footbridge to each platform as well as the proposed car park, to the east of the station. The station will be unmanned, with automated ticket machines, waiting areas on each platform, customer information screens, passenger help points, and CCTV.
Newcourt
Newcourt is located on the Exmouth Branch between Digby and Sowton and Topsham. The new station will deliver a new platform and shelter, ticket machine, secure cycle parking and CCTV. The station will be served by a half hourly local service on the Exmouth branch.
Lea Bridge
Lea Bridge located on the Lea Valley line between Tottenham Hale and Stratford. The station will consist of 2 platforms, a new footbridge and lifts, station canopy, ticket vending machines, Oyster readers, waiting shelters, help points and cycle storage.
Pye Corner
Pye Corner is on the Ebbw Valley line in South Wales between Rogerstone and Cardiff in the Bassaleg area of the west of Newport. The station will consist of a single platform. The station will be equipped with a help point, ticket machine, CCTV and customer information screens. The station will be served by a car park accommodating 70 spaces.
Patrick McLoughlin's original statement to Parliament announcing the fund on January 24 is online.
The press notice accompanying that announcement is available.
Rail media enquiries
Media enquiries 020 7944 3021
Out of hours media enquiries 020 7944 4292
Switchboard 0300 330 3000
Published 15 May 2013