Press release
Government provides funding for new train stations
£20 million new stations fund to bring rail services closer to people's doorsteps.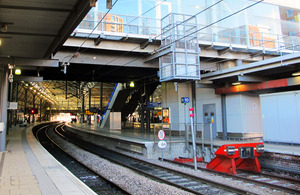 New stations will be built in smaller towns bringing rail services closer to people's doorsteps thanks to £20 million of government funding announced today (24 January 2013) by Transport Secretary Patrick McLoughlin.
The new stations fund, managed by Network Rail, will help build and open new railway stations in England and Wales. It is targeted at 'shovel ready' projects which can be delivered quickly to provide long-term benefits to passengers and the economy.
Local authorities, train operating companies and developers are being encouraged to apply for the funding which will go towards construction costs of building new stations. Bids must be submitted by February 25.
Transport Secretary Patrick McLoughlin said:
The railways play a key role in our lives whether it is delivering benefits to the economy, providing vital transport link for commuters or helping friends and family keep in contact. We are determined to improve this vital service and building new stations will provide that boost.

We recognise that local communities are often best placed to deliver their own transport solutions and I would therefore encourage anyone with a credible and worthwhile business plan to apply for this vital extra funding.
Proposals must be at an advanced stage of development and be supported by the relevant local authority, train operating companies and Network Rail. Successful applicants will also be required to provide a percentage of funding themselves.
Applications will be assessed by a cross-industry panel, including representatives from Network Rail and the Department for Transport, with an announcement on successful bids made in the summer.
Notes to editors
The Transport Secretary's written statement to the House of Commons is available on the GOV.UK website
The creation of a fund for brand new stations was announced in July last year as part of the statement accompanying the 2012 High Level Output Statement (HLOS).
The scheme is designed to deliver new stations which are sustainable in the long term so bidders must set out how the station will be operated, including staffing and maintenance implications.
This funding will be allocated through an open competition to ensure that all promoters of stations have an equal opportunity of securing a funding contribution.
The fund will typically contribute up to 75% of the capital cost of a new station.
An awards panel, including Department for Transport and Network Rail (as deciding members) and ATOC and the Campaign for Better Transport (as advisory members) will then assess the bids before recommending which bids should be awarded funds. In addition, a representative from the Welsh government will be invited for any schemes in Wales.
Press enquiries: 020 7944 3108
Out of hours: 020 7944 4292
Public enquiries: 0300 330 3000
Published 24 January 2013