News story
New £120 million Bexhill-Hastings road opens to boost East Sussex economy
Transport Minister welcomes new route that will cut journey times and support thousands of new homes and jobs.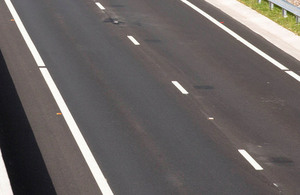 A £120 million new link road that will boost the East Sussex economy and improve journeys along the south coast was welcomed by the Transport Minister Andrew Jones today (16 December 2015) on the eve of its opening.
The long-awaited Bexhill to Hastings link road, named Combe Valley Way, will significantly reduce congestion throughout the local area including the busy A259, Hastings seafront and surrounding rural roads. The road will also support economic regeneration, helping deliver up to 2,000 new homes and 3,000 new jobs.
Transport Minister Andrew Jones said:
This new south coast link will end years of frustration for local people, providing far quicker journeys across the region and unlocking ambitious development plans. This road is further evidence of this government's commitment to improving the UK's transport infrastructure, creating opportunities for the development of new homes, business and jobs. The communities of Bexhill and Hastings have waited a long time for this day and now they have an improved road network to help them get around and get on.
The Bexhill-Hastings link road was delivered by East Sussex County Council with the Department for Transport providing funding of £56.85 million. The first cars will drive along the route on Thursday 17 December 2015 while a new dedicated path for walkers, cyclists and horse riders will be completed next year.
The scheme is already boosting the local economy as companies move into a new business park next to the new route. Glovers House – a 25,000 square foot business centre – has already welcomed its first tenants to the site.
A new bus route will also operate along the road linking Hastings and Bexhill with the new business park via the link road. The construction cost includes £21 million for a range of significant environmental measures including earthworks, fencing and extensive planting to screen the road. A total of 108,000 trees and shrubs will be planted by next April - 2 for every 1 removed due to construction.
Roads media enquiries
Media enquiries 020 7944 3021
Out of hours media enquiries 020 7944 4292
Switchboard 0300 330 3000
Published 16 December 2015