New £1 billion strategy for UK's semiconductor sector
A new 20-year plan to secure the world-leading strengths of the UK's semiconductor industry has today (Friday 19 May) been unveiled by the government.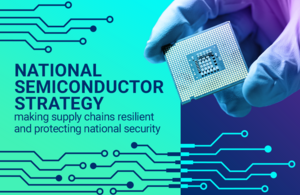 National Semiconductor Strategy reveals plan to double down on design, research and advanced chip leadership – securing the UK's position as a global science and technology superpower

chip plan sets out how UK will build on industry strengths, safeguard supply chains from disruption and protect tech against national security risks – supporting the delivery of the government's priority to grow our economy

government will invest up to £1 billion in the next decade to improve access to infrastructure, power more research and development and facilitate greater international cooperation, with up to £200 million over the years 2023-2025

follows UK and Japan commitment to establish ambitious collaboration in the semiconductor sector, covering R&D cooperation, skills exchanges, and improving the resilience of the semiconductor supply chain
The National Semiconductor Strategy sets out how up to £1 billion of government investment will boost the UK's strengths and skills in design, R&D and compound semiconductors, while helping to grow domestic chip firms across the UK.
Working in tandem with industry, investment made by the government will drive research, innovation and commercialisation through the sector - helping to deliver products from lab to market.
It comes as the Prime Minister is at the G7 leaders' Summit in Japan for discussions on strengthening our tech collaboration with like-minded economies and strengthening supply chains for critical technology like semiconductors.
Semiconductors are vitally important for the modern world we live in, being an essential component for the functioning of almost every electronic device we use. From phones and computers to ventilators and power stations, nearly every piece of technology in the world depends on them.
Over a trillion semiconductors are manufactured each year, with the global semiconductor market forecast to reach a total market size of $1 trillion by 2030. Semiconductors also underpin future technologies, such as artificial intelligence, quantum and 6G.
The strategy focuses on the UK's particular areas of strategic advantage in the semiconductors sector – semiconductor design, cutting-edge compound semiconductors, and our world-leading R&D ecosystem - supported by UK universities from Cambridge to Cardiff and Manchester to Edinburgh demonstrating global leadership in this space.
Compound semiconductors do things silicon chips can't, with use cases in evolving technologies such as autonomous driving and future telecoms. Their creation requires expertise in advanced materials, an area of UK science leadership.
To support the growth of the sector in the UK, the government will invest up to £200 million over the years 2023-2025 to improve industry access to infrastructure, power more research and development and facilitate greater international cooperation.
Taking a strategic approach to investment over the next decade, the government will invest up to £1 billion in a range of measures to secure the UK's advantage in this globally important sector and meet 3 key objectives:
growing the domestic sector
mitigating the risk of supply chain disruptions
protecting our national security
The strategy builds on the consistent support the government has provided for the semiconductor industry, having provided £539 million in grants for research and £214 million directly to SMEs in the sector across the last 10 years, as well as funding 450 PhD students since 2017.
Prime Minister Rishi Sunak said:
Semiconductors underpin the devices we use every day and will be crucial to advancing the technologies of tomorrow.

Our new strategy focuses our efforts on where our strengths lie, in areas like research and design, so we can build our competitive edge on the global stage.

By increasing the capabilities and resilience of our world-leading semiconductor industry, we will grow our economy, create new jobs and stay at the forefront of new technological breakthroughs.
Science, Innovation and Technology Secretary Chloe Smith said:
Semiconductors are the beating heart of all electronic devices, from powering our phones and cars to medical equipment and innovative new technologies like quantum and AI which will make a real difference to all of our lives.

Britain is already a world leader when it comes to researching and designing semiconductor technology – our new strategy will double down on these core strengths to create more skilled jobs, grow our economy, boost our national security and cement the UK's status as a global science and technology superpower.
The UK's Integrated Review placed securing strategic advantage in science and technology at the heart of the UK's national security and foreign policy. In recognition of the fundamental importance of semiconductor technologies in these areas, the National Semiconductor Strategy demonstrates a clear vision for our position in the sector.
As part of the strategy, the UK will increase its cooperation with close partners, working together to manage national security threats and driving growth in the sector, while championing international cooperation to help develop a coordinated approach to supply chain resilience.
In Hiroshima this week, the UK and Japan committed to establishing an ambitious semiconductor partnership, led by the UK's Department for Science, Innovation and Technology (DSIT) and Japan's Ministry of Economy, Trade and Industry (METI). It seeks to deliver new R&D cooperation, skills exchanges, and improving the resilience of the semiconductor supply chain for both countries.
UK Research and Innovation will work with the Japan Science and Technology Agency on a joint investment of up to £2 million in early stage semiconductor research next year. This will support UK and Japanese researchers to work together on fundamental semiconductor technologies.
The strategy has been developed in close consultation with the semiconductor industry and academia, and the government will build on this partnership by creating a new UK Semiconductor Advisory Panel. The Panel will bring together key figures from industry, government, and academia to work closely on shared solutions and implementation.
Growing the UK industry
The government will focus on growing the UK's unique and already world-leading strengths in compound semiconductors, research and development, intellectual property and design by investing up to £200 million over the years 2023-2025, and up to £1 billion in the next decade. This funding will be used to improve the talent pipeline and will make it easier for British firms to access things like prototyping, tools and business support.
These efforts will include investment in a new National Semiconductor Infrastructure Initiative to unlock the potential of British chip firms in these key areas. It will look at whether better access to prototyping facilities for chip firms is needed to tackle barriers to innovation and grow the industry. It will also explore opportunities to make specialist software tools more available for start-ups. The Department for Science, Innovation and Technology commissioned research that will look at the best way to establish the Infrastructure initiative. This will report its findings in the autumn.
Furthermore, the government will announce plans by the autumn on support for investment in the semiconductor manufacturing sector, particularly where they are critical to the UK tech ecosystem or the UK's national security.
Further announcements include:
a new UK Semiconductor Advisory Panel that brings together key figures from industry, government, and academia to work together to deliver the strategy. The Advisory Panel will speak on behalf of the sector and provide advice and feedback
a specialist incubator pilot will focus on removing obstacles which hold semiconductor startups back from growth. The scheme, launching today, will provide industry with better access to technical resources as well as coaching and networking
support for industry-led learning will ensure people can gain the skills the semiconductor industry needs. Programmes will provide opportunities for learning focused on the advanced skills needed for the sector, such as electrical and electronic engineering and computer science
Safeguarding supply chains
The journey of a semiconductor chip from lab to market can involve thousands of production stages taking place across the world, with various locations that have particularly concentrated production capabilities.
The surge in demand for consumer electronics during the pandemic demonstrated how global industries can be impacted by semiconductor supply issues. This strategy highlights the importance of collaboration with international allies to develop secure supply chain resilience.
The government will take steps to help sectors mitigate the impact of supply shortages in the future. The UK government also wants to protect critical sectors (essential services, healthcare, critical national infrastructure and defence) from disruptions that could cause risks to life, or national security. To help ensure the UK is better protected against future disruption the government commits to:
new guidance to be published to help businesses better understand risks and steps they can take to be more resilient against supply chain shocks
continued collaboration through international initiatives - like the UK's technology partnerships with the US, Japan, and the Republic of Korea - to explore shared approaches and solutions to improve global supply chain resilience
Protect UK against security risks
Semiconductors can create vulnerabilities in the electronic devices they are used in, and these risks are becoming more significant as the use of internet connected devices increases. The government is clear that a compromise to the cyber security of the hardware behind every device powering modern life is not acceptable. The acquisition of chip firms can also present national security issues. The strategy announces actions to protect the UK against these security risks including:
additional information on the government's approach to using the National Security and Investment Act, providing information to the industry on what areas of the sector the government has seen particular concerns potentially arising to ensure technology remains securely protected
the government will continue to support world-leading programmes like Digital Security by Design, which aims to ensure semiconductors can be more resilient and secure in the face of growing cyber threats
Notes to editors
Read the National Semiconductor Strategy.
Rene Haas, CEO of Arm, said:
Arm welcomes the UK government's new semiconductor strategy, which will support the UK's effort to play a part in global supply chains for next generation technology. The UK is a significant hub of innovation and talent both for Arm and the wider industry and we look forward to working with the government and other partners to help make this a reality.
Julian David, techUK CEO, said:
The Semiconductor Strategy sets out a long-term roadmap to boosting our chips industry. By doubling down on the UK's strengths, such as in intellectual property and design, while seeking to tackle barriers to growth such as access to talent, infrastructure, power and supply chains, this strategy has the opportunity to fire the starting gun on a bright future for the UK semiconductor industry. However, delivery will be key, and it is vital the government moves quickly with the industry and our international partners to turn the strategy into action.
Americo Lemos, Chief Executive Officer of IQE plc, said:
The Semiconductor Strategy rightly focuses on the areas where the UK is a global leader, such as the manufacturing of advanced compound semiconductors sitting at the heart of future technologies.

With significant investment now being allocated to semiconductor manufacturing in places like the US, Europe and Asia, there's no time to lose in bolstering the UK's capabilities. We're excited to work closely with the government to implement this Strategy quickly and help realise the UK's true potential.
Shevaun Haviland, Director General of the British Chamber of Commerce, said:
The BCC has been calling for a dedicated semiconductor strategy for the past year. Business across the UK is clear on the imperative to secure long-term semiconductor supply chains for Britain – the foundation of advanced manufacturing here. The recent agreement with South Korea, and today's new investment with Japan and in the UK, are strong building blocks to provide that security for manufacturing certainty. Keeping British industry at the cutting edge of research and development is vital and we will be eagerly awaiting the autumn announcements on infrastructure and additional manufacturing support.
Peter Ellingworth, CEO, Association of British HealthTech Industries, said:
As recognised within the strategy, healthcare is a critical sector, and ensuring continued, uninterrupted supply of products, is absolutely essential for patients and our hospitals. From MRI machines to insulin pumps and patient monitors, there are thousands of HealthTech products that require semiconductors, and so this long-term package of investment is a welcome step to ensuring resilience of supply. We look forward to working with government, and a cross-sector of industries, to ensure the strategy is effective.
Russ Shaw CBE, Founder of Tech London Advocates & Global Tech Advocates, said:
Today's announcement is an important step in ensuring the UK continues to strengthen its position as a world-leading tech and innovation superpower. The semi-conductor industry is central to the growth of the global economy, and only through a strategic approach and substantial investment will the UK be able to retain a seat at the table as a leading tech hub.

Tech London Advocates and Global Tech Advocates have long campaigned for this strategy, and we're delighted to see it land with a significant funding boost for the industry, and a clear plan of action to further develop research and commercialisation. This is a positive step, and the industry will now look to government to deliver on this plan over the next decade and beyond. Crucially, the UK needs to deploy as much of this investment early as the sector requires longer time horizons to build deeper capabilities in this vital sector.

It's important the UK now uses the strategy as a basis to strike up key international partnerships and areas of collaboration with like-minded economies – such as the newly announced partnership with Japan – which will not only strengthen the domestic tech sector, but also bolster the development of British industry more broadly and drive wider economic growth.
Cristiano Amon, President and CEO, Qualcomm Incorporated said:
Qualcomm develops critical semiconductor technologies, which support our UK industry partners in enabling their digital transition.  Therefore, I am pleased to welcome the UK government's semiconductor strategy and its strong focus on bolstering R&D, building supply chain resiliency and collaborating with international partners, all of which are core to UK growth, competitiveness and security.
Scott White, Executive Director, Pragmatic said:
Pragmatic welcomes the publication of the UK's National Semiconductor Strategy, with its clear recognition of the importance of semiconductors and their fundamental impact on so many other industries. The supply chain challenges of the past few years may be cyclical, but continued growth in demand will ensure that they do not go away. We support the Strategy's focus on UK strengths in next-generation technologies, including advanced material semiconductors such as Pragmatic's world-leading flexible integrated circuits. Support for semiconductor manufacturing is acknowledged in the Strategy as critical to the UK's technology ecosystem and national security, and we look forward to working with the government to define how this is implemented to support the creation of sustained, long-term value for the UK.
Dr Jalal Bagherli, Co-Chair of the UK Semiconductor Advisory Panel said:
I welcome the government's policy to support the growth of the semiconductor industry in the UK. To compete on a global stage, it's critical that we invest in UK's leading research and development, an expanded talent pipeline, and provide a differentiated manufacturing infrastructure. By doing so, we enable a thriving environment for innovative semiconductor start ups whilst ensuring that our domestic supply chains are robust and resilient. I am excited to see this commitment from the government, and I believe that with continued support, the UK semiconductor industry can rise to the global challenges and thrive for decades to come.
Sean Redmond, Managing Partner UK, Silicon Catalyst said:
Silicon Catalyst, the worlds' only semiconductor focused startup accelerator, is delighted to see the launch of the UK semiconductor strategy. The UK has world leading strengths in chip design, compound semiconductors and advanced packaging. These well thought through policy interventions will help UK companies drink from the global fire hydrant of opportunity as this critically important industry grows to $1 trillion by 2030.
Charles Sturman, CEO Techworks NMI, said:
The UK has a strong heritage in the Semiconductor Industry, with many world-class companies across the value chain from design to manufacturing. As the UK trade association for Semiconductor and Deep Tech, we welcome this much needed National Strategy and the resulting government focus which it brings. The strategic investment will provide a catalyst for growth and scale-up in UK capabilities across the ecosystem, as we develop the new materials and devices which will fuel future markets in Advanced computing, Quantum, IoT and Cybersecurity, Telecoms and Electrified Mobility – all areas where the UK has significant opportunities.
Published 19 May 2023
Last updated 19 May 2023
+ show all updates
Added 2 stakeholder quotes.

First published.