Nearly £30million to help most vulnerable victims of crime
Vulnerable victims of crime will be helped by £29.4 million of dedicated funding over the next three years Kenneth Clarke announced today.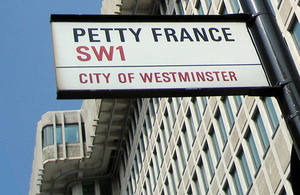 The money will be used to support the most seriously affected, vulnerable and persistently targeted victims and witnesses.
An important part of this will be to ensure those traumatised by rape and sexual violence receive the specialist support they need. Therefore up to £10.5 million of this package will go directly to rape crisis centres. This is part of a wider Government commitment to increase the provision of rape crisis centres across England and Wales.
This is the first time funding has been guaranteed on a three year basis and it will help put providers on a stable, financial footing, enabling them to give sustained support to those who need it most.
Voluntary sector groups will be able to bid for this money to provide the services their local communities need. In particular this will provide renewed funding to:
Help victims of serious violent crime
Help individuals bereaved by murder and manslaughter
Help victims of hate crime
Help victims of domestic violence through court-appointed Independent Domestic Violence Advisors (IDVAs)
Help victims of robbery and burglary
Help victims of anti-social behaviour (ASB)
Help bereaved families of fatal road traffic crimes
Justice Secretary, Kenneth Clarke, said:
'The Government is totally committed to supporting the most seriously affected, vulnerable and persistently targeted victims of crime and today's funding announcement will go a long way towards helping those who specialise in doing so to continue to perform this function.
'By giving more guaranteed money than ever before to a wider range of grassroots groups who support victims, we will enable those with the necessary expertise to give better, more targeted and sustained support to those who need it.
'This approach, coupled with our plans to reduce re-offending, and to break the cycle of crime, will help us achieve our goal of protecting society against crime and giving better support to the victims of crime.'
Home Secretary Theresa May said:
'Sexual violence is a dreadful crime which devastates victims' lives. We are absolutely committed to ensuring every victim of rape has access to the support that they need to rebuild their lives.
 
'That is why, for the very first time, we're guaranteeing stable long-term funding for rape crisis centres. This is a key element of the Government's wider strategy to tackle violence against women and girls.'
A spokesperson for the Survivors Trust said:
'The Survivors Trust is both pleased and relieved to see the commitment from government to support specialist rape and sexual violence support services over the next three years.
'We have a membership of 130 voluntary sector rape and sexual violence support services throughout the UK. We know that specialist rape support services have struggled to balance meeting the needs of victims against the uncertainty of being able to continue to provide their service without sufficient funds.
'Three year funding is a breakthrough that will now allow some level of stability for these vital services that are so essential to the wellbeing of victims of rape and sexual assault.'
A spokeswoman for National Rape Crisis said:
'Rape Crisis England and Wales (RCEW) welcomes the announcement of vital government funding for existing Rape Crisis services in England and Wales.
'RCEW has consistently strived year after year to achieve a level of stability for member organisations. This new funding will give Rape Crisis services a three year contribution towards service costs and will enable centres to focus on additional fundraising with the confidence that they will still exist in three years time.'
Notes to editors:
This fund will direct £9.8 million annually to the victim and witness voluntary sector for the next three years.
This includes £3.5million to support the work of rape crisis centres and £250,000 to help homicide support services cover their operational costs. Allocations for the homicide fund are for one year only pending the outcome of the Victims Commissioners report.
The funding pool opens to eligible providers on 31 January. 2011 funding decisions will be made by April 2011.
More information on the Survivors Trust and Rape Crisis.
Further information available at the Ministry of Justice Press Office on 020 3334 3536.
Published 28 January 2011