News story
Near miss with a track worker, Gatwick
Investigation into a near miss with a track worker near Gatwick Airport station, West Sussex, 2 December 2018.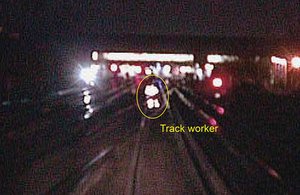 At around 23:25 hrs on 2 December 2018, a track worker moved out of the way of an approaching passenger train less than two seconds before the train passed him travelling at 51 mph (82 km/h). He did not suffer any injuries.
The track worker was removing cables (short circuiting straps) which had been temporarily attached to rails near Gatwick Airport station in connection with engineering work on the railway.
Our investigation will establish the sequence of events and consider:
factors influencing the actions of the track worker and other staff involved in the work
relevant rules and procedures applicable to the planning, acceptance and implementation of safe systems of work
any relevant underlying management factors
Our investigation is independent of any investigation by the railway industry or by the industry's regulator, the Office of Rail and Road.
We will publish our findings, including any recommendations to improve safety, at the conclusion of our investigation. This report will be available on our website.
You can subscribe to automated emails notifying you when we publish our reports.
Published 10 January 2019