News story
NDA Chief Executive's focus on safety
Dounreay hosts visit from NDA senior executives.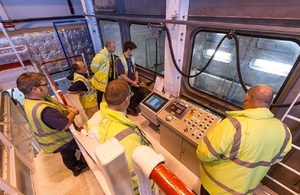 Safety is the first, second and third priority at all sites, the NDA's Chief Executive John Clarke told a recent training seminar in Caithness.
He added:
Whatever the pressures to do things more efficiently, these must take second place to safety, security and environmental compliance. And it must be safety first, second and third priority! Every person working on our sites has an individual and collective duty to ensure that no-one is harmed at their work.
Mr Clarke was addressing Dounreay staff and supply chain companies at the seminar, which was organised by the NDA following a major re-write of the UK Construction Design & Management (CDM) Regulations in 2015.
CDM Regulations apply to a project from design through to demolition, including construction, operations, maintainance and decommissioning.
He continued:
Nuclear decommissioning is as much about building things as it is about knocking things down. Last time I was in Caithness was to see the opening of the new Low Level Waste vaults, a major construction project.

The NDA has just started a new build which it is managing more directly – our NDA Archive at Wick. There are numerous major construction and demolition projects coming up at Dounreay.

Strict adherence to the CDM Regulations is important in ensuring the safety of the people on our sites. The CDM Regulations require the whole lifecycle of a project to be considered at the planning stages. I'm pleased that the NDA is taking the lead in ensuring the new regulations are promoted and understood.
The Thurso seminar was attended by over 50 people, including representatives from Dounreay Site Restoration Ltd, NDA, Office for Nuclear Regulation, the Association of Project Safety, the supply chain and members of the Caithness Chamber of Commerce.
John Clarke, along with Pete Lutwyche, NDA's Sellafield Programme Director, was in Caithness on a two-day visit to Dounreay, touring all areas on the site and also meeting Dounreay Improvement Team (DIT).
He said:
I saw that some great progress has been made. The teams I spoke to were enormously committed to their tasks and proud of what they do.
The pair also dropped in at the Caithness Horizons tourist venue, where the control panel from Dounreay's Materials Test Reactor features as part of an exhibition about the site and is proving to be popular with visitors. It is believed to be the only example in the world of a redundant control panel from a nuclear site being made accessible to the public.
Published 2 September 2015