News story
NDA and NDF of Japan sign co-operation agreement
NDA and Nuclear Damage Compensation and Decommissioning Facilitation Corporation of Japan (NDF) signed a co-operation agreement in Tokyo.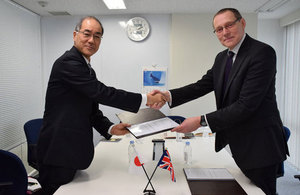 The agreement cements the relationship between the two organisations which has been developing since NDF's 2014 reorganisation to become responsible for facilitating the decommissioning of the Fukushima-Daiichi reactors damaged by the 2011 earthquake and tsunami.
In particular the agreement allows for cooperation through information exchange in organizational and institutional arrangements for decommissioning and radioactive waste management; strategy development, implementation and delivery; facilitation of technical co-operation; stakeholder engagement, and skills and knowledge management.
Dr Adrian Simper, NDA's Strategy and Technology Director, said:
We continue to support our Japanese colleagues with the important and difficult task of cleaning up the aftermath of the Fukushima-Daiichi accident. NDF has a key strategic remit in helping deliver this, and in many ways has similar functions to the NDA, and so I am very pleased to be able to share our knowledge and experience with them.
Mr Hajimu Yamana, NDF's Vice President, said:
In 2014 NDF was given a new name and a new role to facilitate the decommissioning of the Fukushima-Daiichi reactors. International co-operation is an important aspect for our future success and we very much welcome signing this agreement with NDA, and are looking forward to working closely together.
Published 25 February 2015