Navy's new ice-breaker officially named
HMS Protector will fulfil HMS Endurance's role as the Navy's ice patrol ship for an interim period, and has been leased on a three-year contract…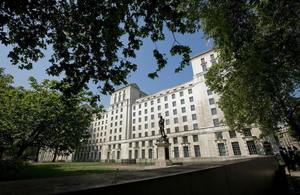 HMS Protector will fulfil HMS Endurance's role as the Navy's ice patrol ship for an interim period, and has been leased on a three-year contract from Norwegian company GC Rieber Shipping. The vessel entered Portsmouth Naval Base for the first time last week as MV Protector. See Related News.
The ship's sponsor, Mrs Beverley Mathews, wife of Vice Admiral Andrew Mathews, the MOD's Chief of Materiel (Fleet), performed the ceremony in naval tradition, christening the vessel with a bottle of champagne.
HMS Protector's Commanding Officer, Captain Peter Sparkes, said:
This ceremony marks a symbolic milestone in the regeneration of the Royal Navy's ice-breaking capability.
The ship was blessed by the Reverend Scott Brown, Chaplain of the Fleet.
HMS Protector will be formally commissioned into the Royal Navy's fleet in a ceremony on 23 June 2011 and will deploy on the Navy's Antarctic task in November, serving in the region for the 2011-12 austral summer. Meanwhile the long-term future of HMS Endurance is being considered.
Published 3 June 2011