Navy's largest warship visits Sunderland
The Royal Navy's largest warship HMS Ocean arrived in her 'spiritual home' of Sunderland.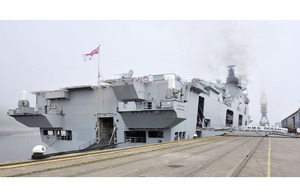 The amphibious assault ship, which will soon play a central role in providing security support for the London 2012 Olympics, berthed alongside the Port of Sunderland's Corporation Quay yesterday. She will spend a busy few days in the north east city before she leaves on Monday, 28 May 2012.
This is HMS Ocean's seventh visit to the city, that the ship has been affiliated to since she was commissioned in 1995, and although it has been almost three years since her last visit to the port due to operational commitments, the depth of welcome has been no less warm.
Captain Andrew Betton, HMS Ocean's Commanding Officer, said:
It is a huge honour to bring HMS Ocean back to our affiliated city, and we have certainly been made to feel very welcome.
We are now making the last minute preparations for our Freedom of the City parade on Saturday and our open ship on Sunday.
I know from my discussions with the Mayor this morning that there is a huge interest amongst the people of Sunderland to get onboard 'their' ship.
We are going to be inundated with visitors, but we are greatly looking forward to welcoming them all onboard.
HMS Ocean recently completed a pre-Olympics security exercise in London. During the games, she will return to the Thames, mooring at Greenwich, and will play a central role in the Armed Forces support to the police in ensuring the Games are safe and secure for everyone to enjoy.
In addition to being a platform for Royal Navy and Army Air Corps Lynx helicopters, the ship will also accommodate military personnel who are providing security for the equestrian events at Greenwich Park.
The weekend's activities kicked off this morning, when around 100 young people joined the Royal Marines Commando Recruitment Team on board the ship. The day's events gave everyone a small taste of life as part of the elite Royal Marines.
Participants had the opportunity to try out skills such as unarmed combat, using a climbing wall and some rigorous physical training packages, which the commandos use to hone, and then maintain, peak fitness.
Saturday will dawn as a day of honour for all the crew when they take to the streets of Sunderland to exercise their Freedom of the City, bestowed upon them in 2004. A ceremonial spectacle with "drums beating and bayonets fixed", it promises to be a visual treat for locals lining the route.
Led by The Band of the Royal Regiment of Fusiliers, the ship's company begins the parade through the city at 1600hrs, up Fawcett Street and left onto High Street West.
On Sunday, locals will have an opportunity to visit HMS Ocean when she opens her gangway to visitors from 1000hrs - 1600hrs. Access to the ship on Corporation Quay will be via the Low Street entrance. Families with vehicles are advised to seek parking away from the immediate vicinity of the port, which will be open to pedestrians only. Parking on Low Street will be for residents only.
The ship will head back to her base at Plymouth on Monday, less a group of sailors and Royal Marines who will join local Sunderland people at the start of the city's Big Bike Ride on Sunday morning before continuing to cycle the remaining 481 miles (775km) to Plymouth, over five days, in an attempt to beat HMS Ocean home.
The Reverend Jon Backhouse, HMS Ocean's Padre, said:
Rather than just a fun outing (at least for people who enjoy that sort of thing!), they have a much more serious aim in mind: raising as much money as they can for the ship's local Sunderland charity, Grace House North East children's hospice, and the Royal Navy and Royal Marines Charity.
They have already raised over £1,000, but are hoping that that is just the beginning of what they can do to help these worthy causes.
If you would like to help, it's easy to give a donation, either by visiting the My Donate page (see Related Links), or by texting 70070 with the message "SHIP12 £5" replacing the final number with the amount you would like to give (between £1 and £10).
Published 25 May 2012