Navy task group heads through Suez
Following operations off Libya, the Royal Navy's Response Force Task Group has now passed through the Suez Canal in order to conduct exercises with the UK's partners in the Middle East.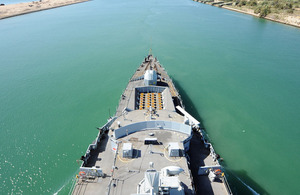 Cougar 11, as this summer's deployment of the Royal Navy's new Response Force Task Group (RFTG) is being called, consists of several Royal Navy ships, aircraft and personnel held at very high readiness.
The RFTG is able to respond to short-notice tasking across a diverse range of defence activities, such as non-combatant evacuation operations, disaster relief, humanitarian aid or amphibious operations, and is at the heart of the UK's ability to react at short notice to unforeseen events around the world.
Since leaving the UK in early April 2011, the RFTG has completed maritime exercises off Cyprus, reaffirmed the core amphibious skills of the Lead Commando Group from 3 Commando Brigade Royal Marines, undertaken a historic joint exercise with the Albanian Armed Forces, and supported NATO operations off Libya.
Now the flagship of the Task Group, HMS Albion, Type 23 frigate HMS Sutherland, and Royal Fleet Auxiliary tanker Wave Knight, will join other Royal Navy and allied warships stationed in the Middle East for a series of pre-planned exercises and operations with regional partners.
Commodore Tim Fraser, UK Maritime Component Commander, said:
The Middle East is a vital artery of world trade, linking Europe and America with the Far East. Over 23,000 ships pass through the Gulf of Aden each year. The work of the Royal Navy in this part of the world is invaluable to the UK's own defence and security as well as that of the wider region.
The Royal Navy's Response Force Task Group will strengthen some of the UK's key relationships and will make an important contribution to international efforts to promote maritime security.
Captain James Morley, Commanding Officer of HMS Albion, said:
The Response Force Task Group is the UK's maritime quick reaction force and has a range of capabilities that make it ideally suited to the fast pace and unpredictable nature of world events.
Having developed and demonstrated our capabilities through a series of exercises and operations in the Mediterranean, the Task Group is now ready for the next stage of our deployment east of Suez.
Two ships from the Task Group, the helicopter carrier HMS Ocean and the destroyer HMS Liverpool, will remain in the Mediterranean in support of ongoing NATO operations.
Published 20 June 2011