Navy submarine HMS Turbulent retires
A ceremony marking the retirement of Royal Navy submarine HMS Turbulent took place this weekend at Her Majesty's Naval Base Devonport in Plymouth.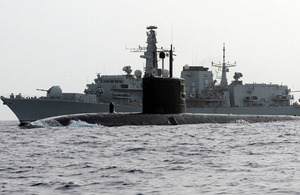 Turbulent officially left operational service at a decommissioning ceremony on Saturday after nearly 30 years of service, including firing missiles during operations against Libya.
The ceremony marked the end of the distinguished service of the second oldest of the Trafalgar Class submarines with the Royal Navy, the boat having come to the end of her natural operational life.
Guests included the submarine's sponsor Lady Cassidi, twelve previous commanding officers, and family and friends of the submarine and her crew from over the years.
Lady Cassidi paid tribute to the submarine, her crew and the families who supported the vessel when at sea. The submarine's bell was rung for the last time, the decommissioning pennant was lowered on board, a religious service was staged and the Band of Her Majesty's Royal Marines Commando Training Centre Lympstone played.
HMS Turbulent's current Commanding Officer, Commander Nicholas Wheeler, said:
The decommissioning event provides a memorable opportunity to officially decommission Turbulent from her fleet life. It was an opportunity for me to offer my and the Royal Navy's gratitude for the hard work the men of Turbulent have provided me and my predecessors over recent years.
It is an honour to have Lady Cassidi attend the event as ship's sponsor after many years of unfaltering support.
The submarine has had an active and successful career, fundamental to the defence of the United Kingdom. In 2011 Turbulent deployed from the UK for a longer than normal 268 days, successfully completing a deployment to the Indian Ocean.
HMS Turbulent also provided Tomahawk land attack missile coverage in support of joint operations against the former rulers of Libya and conducted other operations and exercises during which she visited Souda Bay, Fujairah, Bahrain, Goa and Aqaba.
Commander Ryan Ramsey, who captained the submarine in 2011 and now teaches new submarine commanding officers, said:
This was a chance to celebrate 29-and-a-half years of maintaining service and operations for our country. I came to say goodbye to some amazing people. I was always amazed by the quality of my ship's people when I was serving on submarines and their unfailing ability to deliver security and operations to the UK.
This was an exceptionally emotional time - to see the end of a submarine which has been so much part of my life and my family's life for several years.
Commander Ramsey added:
It is a great occasion to celebrate the success of the submarine and to see my former ship's company who I led on so many operations - we formed a strong bond which remains. It has also been very rewarding to see how my former team has moved on and developed and been promoted in some cases.
Since being commissioned in 1984 Turbulent has been deployed on patrols as far apart as the North Atlantic and Far East, and saw service in the Adriatic during the Balkans conflict. Trafalgar Class attack submarines were designed as Cold War warriors but have adapted to the demands of the 21st century.
Based in Devonport, the boat's hunter-killer title came from her primary role - to hunt out and destroy enemy nuclear missile submarines as well as surface ships.
That has always been part of her remit, but over the decades the submarine has been kitted out for other roles, including covert surveillance of enemy forces and inshore reconnaissance of installations and landing beaches.
Captain Tim Lightoller (Ret'd) was HMS Turbulent's first commanding officer in 1982 and was a guest of honour at the decommissioning ceremony. He said:
I must admit to being emotional at seeing the end of HMS Turbulent's service today. I am surprised at how emotional it is. It is a day of mixed emotions for me - a sad day to say farewell to a very happy boat, but there is much to remember of a fantastic life of operational service.
I was in charge of the boat for its first three years of life and was at the launch with Lady Cassidi and got it through trials and testing and into operational service. It was then the Cold War and our prime role was monitoring Soviet submarine operations and working under the ice in the North Atlantic.
Captain Lightoller's grandfather was Second Officer Charles Lightoller on the liner Titanic and the most senior officer to survive the famous sinking who went on to be decorated for sinking submarines in the First World War.
Captain Lightoller said he had always wanted to be a submariner and served on HMS Rorqual and Opportune before heading submarine sea training in Scotland where he lives. On leaving the Royal Navy he got a job with the National Trust for Scotland.
A former member of Captain Lightoller's crew at the ceremony was ex-Chief Petty Officer Tony Chamberlain who said:
HMS Turbulent has always been a happy boat and this is obvious today mixing with old shipmates at this event. A highlight was meeting a US boat, the submarine Sea Devil, at the North Pole on Independence Day and being escorted by her and having her captain on board.
We worked a lot under the ice in northern waters collecting intelligence in the Cold War and testing systems in Norwegian waters. It is great being at this event and catching up with old colleagues.
HMS Turbulent is the second Royal Navy submarine to bear the name. The first was a Triton Class submarine launched in 1941 which served during the Second World War until she was sunk by a mine near to the Maddalena Archipelago off Sardinia in 1943.
The current HMS Turbulent was built by the Vickers shipbuilding company in Barrow-in-Furness, was commissioned in 1982, and has been commanded by thirteen captains.
Published 16 July 2012