Navy starts Olympic Flame's UK relay
The Royal Navy helped the Olympic Flame start its journey across the UK this weekend.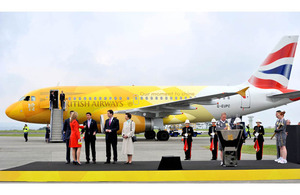 The Olympic Flame arrived in the UK at Royal Naval Air Station Culdrose, Cornwall, on Friday evening, 18 May 2012, on board a chartered British Airways A319 aircraft, specially named 'Firefly'.
It was flown to the UK from Greece for the start of the Olympic Torch Relay by the London Organising Committee of the Olympic and Paralympic Games (LOCOG).
A delegation from the UK, including Her Royal Highness The Princess Royal, LOCOG Chair Sebastian Coe, Minister for Sport and the Olympics Hugh Robertson, Mayor of London Boris Johnson, and David Beckham, accompanied the Olympic Flame aboard Firefly after receiving it at a handover ceremony in the Panathenaic Stadium in Athens on 17 May.
The welcoming party at Culdrose, led by the Deputy Prime Minister, Nick Clegg, greeted the delegation as they disembarked the aircraft, before a ceremonial cauldron was lit on the airfield to celebrate the Flame arriving in the UK.
The event was also attended by over 500 invited members of the public and dignitaries from the local area. Entertainment was provided for the visitors which included a Royal Navy flying display and a Royal Marines band who added to the excitement prior to the Flame's arrival.
The next morning, the Olympic Flame was flown by a Royal Navy Search and Rescue squadron helicopter from Culdrose, where the Flame had remained overnight, to Land's End for the start of the Olympic Torch Relay.
The 771 Naval Air Squadron Sea King helicopter arrived at its destination at 0700hrs, and Lieutenant Commander Richard Full carried the lantern to the world-famous signpost at Land's End, where the first torch was lit, supported by a crowd of local residents and dignitaries.
Lieutenant Commander Full had previously been chosen as the Service person to have the honour of carrying the Olympic Flame from the helicopter to start the Torch Relay.
Three-times Olympic gold medallist Ben Ainslie then had the honour of being the very first Torchbearer for the Relay. Ben, who grew up in Cornwall, is one of 8,000 Torchbearers who will carry the Olympic Flame during the Relay.
Having left Land's End, the Olympic Flame will travel an estimated 8,000 miles (12,875km) around the UK, giving thousands of communities and individuals their moment to shine as the Olympic Flame comes to a place near them.
Published 21 May 2012