Navy Search and Rescue crew in snow rescue
The Royal Navy's duty helicopter Search and Rescue team from HMS Gannet were called out to Ayr Golf Course last weekend to evacuate a teenage sledging casualty whose winter fun took a turn for the worse.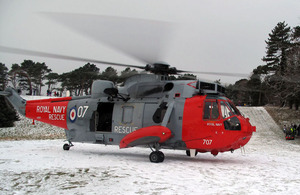 The 14-year-old boy was among hundreds of people who had gone out to the course to enjoy some winter fun on Saturday 20 December 2010, but his day took a rather dramatic turn when he was hit by another sledger.
The crew of the Mark 5 Sea King was tasked by the Aeronautical Rescue Co-ordination Centre at Kinloss on the request of Cardonald Ambulance Service and was airborne for the short hop from the crew's Prestwick base.
A matter of only four miles later, the helicopter landed at the golf course where a doctor and paramedic were already in attendance.
It appeared that the teenager may have had a bump to the head and he was, therefore, handled for suspected spinal injuries.
Together with the medical staff on site, the helicopter's paramedic aircrewman and observer carefully prepared the lad for removal on a stretcher.
Chief Petty Officer Daz Craig, the HMS Gannet duty paramedic, said:
It was snowing and visibility in the showers was not great, the flying conditions looked grim, but we were briefed and reassured by the duty forecaster Chief Petty Officer Tim Anthoney and managed to avoid some of the worst weather.
There were a lot of people at the landing site, but they all moved back to a safe distance allowing us to land next to the casualty. An ambulance and duty doctor were already on-scene attending to the casualty.
Lieutenant Alex Stevenson (winch operator) and myself went over to the casualty and prepared him for loading in the stretcher for the short flight to Glasgow Southern General, avoiding the snow showers.
All in all a reasonably straightforward job despite the sometimes poor visibility and snow showers.
Flying straight from the scene, the helicopter travelled to Glasgow where the teenager was kept in hospital overnight and released the next day.
In 2009, HMS Gannet broke its own record of the previous two years for the highest number of call outs, with 447, rescuing 378 people, and making it the UK busiest helicopter search and rescue unit since records began.
Published 23 December 2010