Navy Merlins take part in anti-submarine exercise
Two Merlins from 820 Naval Air Squadron have been taking part in the world's biggest anti-submarine exercise, NATO's Proud Manta.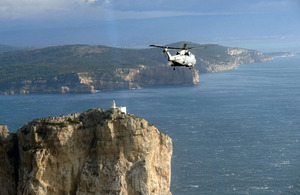 The aircraft - widely acknowledged as the world's best submarine-hunting helicopter - travelled 1,400 miles (2,250km) across Europe from their base at Royal Naval Air Station Culdrose in Cornwall to the US Naval Air Station at Sigonella on the island of Sicily to take part in the exercise.
The two-week-long war games, played out off the east coast of the Italian island, have seen naval air and surface forces tracking down submarines from France, Greece, Italy, Spain and Turkey to hone their sub-hunting skills, while the boats themselves practised their evasive skills.
Air and ground crew from 820 Naval Air Squadron - one of two Merlin squadrons which can deploy en masse with the Navy's two helicopter carriers - flew out to Sigonella, which is 15 miles (24km) south of Mount Etna.
Once in Sicily, the squadron flew their Merlins alongside helicopters (including Italian Merlins of the Marina Militare) and fixed-wing aircraft from NATO partners, working with NATO ships to counter underwater threats played by NATO submarines.
The two helicopters notched up 66 hours of flying during the exercise - spending more time airborne and taking part in more missions than any other nation participating. And, more importantly, they managed to detect - and carry out simulated attacks against - the boats they found beneath the sea.
Thanks to its sonar, the Merlin is renowned for its ability to find submarines which don't want to be found - but at times the conditions in the Ionian Sea meant the distinctive outline of a boat could be seen with the naked eye from an aircraft overhead.
Lieutenant Commander Stuart Finn, senior observer and the 820 Naval Air Squadron detachment commander, said:
Plenty of simulated attacks were carried out by the Merlins and the aircrew gained valuable insight into how our NATO partners operate and also demonstrated to them the awesome submarine-hunting capability that is the Merlin helicopter.
The challenges posed by operating at a foreign base far from home were also met with gusto by the engineering team, engendering a close relationship with our Italian Merlin colleagues in order to provide serviceable aircraft for the exercise missions.
Proud Manta 2012 was an extremely valuable exercise for us.
In addition to the aircraft and submarines, a sizeable force of surface ships took part in Exercise Proud Manta, including vessels from NATO's Standing Maritime Group 1, destroyers from France and Italy, an Italian frigate, two Italian auxiliary ships, a US cruiser and destroyer, and a NATO research vessel.
Captain Walter Luthiger of the US Navy, chief planner for the exercise, said:
The assets put into this year's exercise really allowed us to put all the players through complex and escalating scenarios.
We had enough ships, planes and people engaged that we could really simulate plenty of threats - and therefore train hard in how to work together to deal with and neutralise those threats.
Published 15 March 2012