Navy helicopter crews prepare for Helmand
Sailors and Royal Marines from 847 Naval Air Squadron (NAS) are preparing to return to the front line in Afghanistan.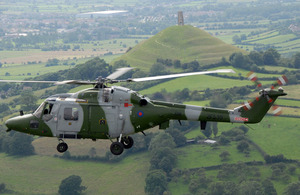 Around 50 personnel are deploying to operate the new Lynx Mk9A battlefield helicopter. They will be supporting British forces in Helmand province, as well as Coalition and Afghan allies.
The squadron previously deployed to Helmand province in southern Afghanistan for seven months in September 2008. At that time the whole squadron successfully operated the Mark 7 variant of the Lynx helicopter.
The pilots and door gunners will be primarily escorting support helicopters as they resupply forward operating bases.
However, the 847 NAS aircrew could also be called upon to conduct reconnaissance, convoy escort, airborne command and control, and fire support with artillery and fast jets.
Meanwhile, the squadron's engineers and support personnel will be working to ensure the aircraft remain available around the clock in the gruelling Afghan environment.
847 NAS started training for this deployment last summer. Over the last six months they have been learning how to operate and maintain the enhanced Lynx Mk9A in a desert environment.
The new aircraft variant can now operate during the scorching Helmand summer, enabling a continuous Lynx presence in theatre. With new engines the aircraft has increased power to cope in Helmand's 'hot and high' conditions.
The aircraft has also been equipped with the larger, more powerful 0.50-calibre machine gun, which will provide a greater capability and a far more versatile asset for allied forces.
For a number of B Flight's personnel it will be their first operational deployment. Major Dave Sutton, Royal Marines, said:
Whilst we are rather reticent about leaving our loved ones behind, we look forward to the many challenges that face us.
There are also members of the squadron that have a vast experience of operational deployments, some of whom have deployed on the ground in Afghanistan with commando units.
We have trained extremely hard for all eventualities and we are confident that we will provide both Coalition and Afghan allies with all that is required of us.
Corporal Matthew Lane, Royal Marines, said:
I feel excited about the challenges that face the squadron in Afghanistan but with the additional performance of the upgraded Mark 9 Lynx we should be able to provide a more robust and dynamic service to the troops on the ground.
847 NAS will be joining their Commando Helicopter Force (CHF), or 'Jungly', colleagues from 845 and 846 Naval Air Squadrons who operate the Sea King Mk4 support helicopter. The CHF maintains a continuous Sea King Mk4 detachment presence in theatre.
Published 19 January 2011