Navy duo to retrace Shackleton's epic journey
Two Royal Naval servicemen are set to retrace the steps of Ernest Shackleton's epic journey of 1916 in a replica of the lifeboat used.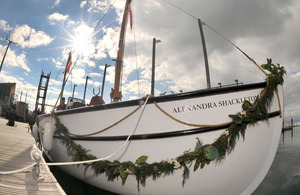 Warrant Officer Barry 'Baz' Gray of the Royal Marines and Royal Naval Petty Officer Seb Coulthard will form part of a crew of Antarctic adventurers recreating Sir Ernest Shackleton's epic and extraordinary double mission.
Next January, the duo - and four fellow volunteers - will guide an exact replica of the James Caird, the lifeboat from Shackleton's ship Endurance, across 800 miles (1,300 kilometres) of violent ocean from Antarctica to South Georgia - before crossing 20 miles (32 kilometres) of the rugged, remote island to reach the former whaling station at Stromness.
In doing so they will recreate the 1916 journey of Britain's greatest polar explorer, Sir Ernest Shackleton, and his successful attempt to save his stranded trans-Antarctic expedition.
In the century since Sir Ernest took his whaler, the James Caird, from Elephant Island to South Georgia and struggled across the mountains to raise the alarm, no-one has successfully recreated the entire rescue mission.
Come January, the Shackleton Epic Expedition looks to do just that. It has the backing of the explorer's granddaughter and expedition patron Alexandra, who launched the new boat, named after her, at Portland Marina:
It's a great honour to have a boat named after me and I'm very proud that this expedition is going to recreate for the first time since 1916 my grandfather's epic boat journey," said Alexandra.
The 22-and-a-half-foot (6.86-metre-long) boat is a precise replica of the James Caird. Her crew will also endure the hardships of that age, wearing clothing of the time. All the rigging and features on the whaler have been faithfully reconstructed - as Shackleton would have used them - and the crew will eat the rations of the day. The only concession to modernity is present-day emergency equipment:
We've taken away all the complicated aspects of modern equipment, and we've gone back to basics. It brings out the more resourceful side of you," explained Petty Officer Coulthard, based at Royal Naval Air Station Yeovilton.
On reaching South Georgia after 16 days - a journey Shackleton described as 'one of supreme strife' - the leader set off with two colleagues and scaled precipitous peaks up to 3,000 feet (914 metres) high, with virtually no mountain equipment or maps, to reach Stromness. Even when he reached the isolated whaling station, it was several months before a rescue party successfully reached the rest of his men on Elephant Island. Every man was brought back alive.
Crossing South Georgia is where Warrant Officer Gray will come into his own as a Royal Marines Mountain Leader:
It's only been done once before, its going to be horrible, damp, cold, uncomfortable, there'll be nothing nice about it, and that's why this will be such an awesome challenge," he said.
Beyond being a tremendous test of mental and physical strength, the Shackleton Epic not only aims to honour the explorer's legacy and show how human spirit and endeavour triumph in adversity, but also to demonstrate the impact of climate change on Antarctica by filming the effects of ice melt in the region.
Fellow crew member, Australian adventurer and explorer Tim Jarvis, said:
Whereas Shackleton's goal was to save his men from Antarctica, we are trying to save the Antarctic from man - an unfortunate irony.
Published 21 March 2012