Navy divers detonate WW2 mine
Royal Navy explosives specialists have safely blown up a rare 400-pound (180kg) Second World War German mine off the north Kent coast.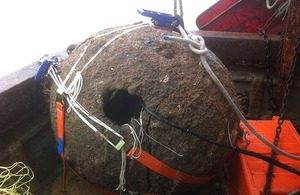 A four-man team from Southern Diving Unit 2 (SDU2) detonated the GX buoyant mine - measuring three feet (0.9m) in diameter - which was caught in a fishing vessel's nets about a mile (1.6km) off Margate.
The quartet - led by Petty Officer (Diver) Ken Smith - were ferried to the vessel in a police launch. They attached a charge to the wartime device and carefully lowered it some ten metres to the sea bed.
A 1,000-metre cordon was put in place by the Coastguard while a controlled explosion was carried out, causing a 25-metre plume of water.
Lieutenant Dan Herridge, head of the Portsmouth-based SDU2, said:
We don't often find these types of buoyant mines - they are quite unusual. But it was in good condition, so this was quite a delicate operation to make sure everything went smoothly.
Southern Diving Unit 2 is part of the Southern Diving Group (SDG) which is the Royal Navy Clearance Diving Group responsible for explosive ordnance disposal (EOD) below the high-water line for the southern region of the United Kingdom.
Along with EOD support to the civil authorities on the UK mainland, SDG personnel are also trained in air and gas mixture diving to 50m and 60m respectively, provide In Water Maintenance and Repair at the naval dockyards and abroad, are the Navy's specialist operators for Maritime Explosive Ordnance Disposal Force Protection, and are on call to provide short notice response to submarine emergencies.
Published 14 October 2011