Navy cultural advisor invaluable to Cougar 11
One of only two Royal Naval cultural advisors, reservist Lieutenant Commander Shah Esfahani's deployment on the Cougar 11 tasking marked the first time either has been deployed in this role at sea. The mine was in excellent condition - in fact it was still shiny - but the dredger had pierced its skin so this was a delicate task for the team."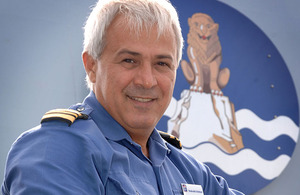 Drawn from the Royal Naval Reserve's (RNR's) Information Operations branch, Lt Cdr Esfahani was appointed to the staff of Commander UK Task Group (COMUKTG) as a cultural advisor on Cougar 11.
Cougar 11 was the first deployment of the Response Force Task Group - the UK's maritime quick reaction force, and a new initiative announced in last year's Strategic Defence and Security Review at the heart of the UK's maritime contingent capability to be held at very high readiness to respond to unexpected events worldwide.
HMS Albion, the flagship of the Task Group, on which Lt Cdr Esfahani was embarked, returned home on Monday.
Having spent four years working as the chief linguist for HQ ISAF in Kabul, Lt Cdr Esfahani's knowledge and experience were much in demand as the Task Group undertook a series of exercises with Saudi Arabia, Oman and the United Arab Emirates. Added to that is the fact he is fluent in Farsi and Dari, with a good working knowledge of Arabic.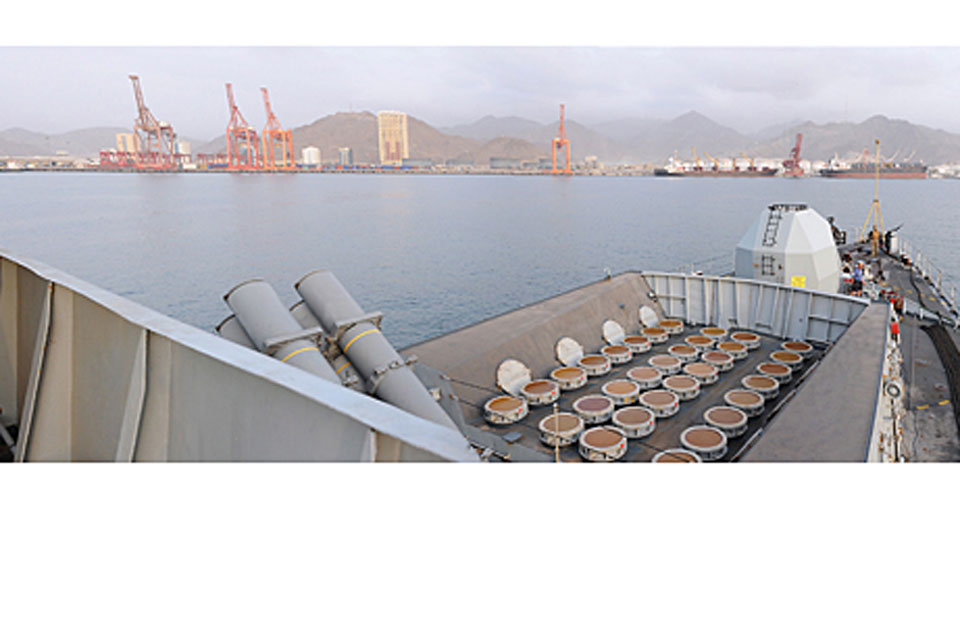 Commander Tom Guy RN, COMUKTG Chief of Staff, explained:
Our wider region engagement is critical to the UK's influence in a part of the world which is essential to the UK's own security and prosperity. To have someone on my team who understands the culture and speaks the language has been absolutely invaluable.
The primary role of the Cultural Advisor - or CULAD for short - is to provide advice on religion, culture, customs and habits practised in countries visited by the Royal Navy.
The Royal Navy frequently deploys to areas where sailors and marines are exposed to different cultures and languages. They face both partners and opponents with different perspectives to their own and work in environments that may have little in common with what they are used to or have experienced before.
Lt Cdr Esfahani, who first joined the RNR's Northwood-based training unit HMS Wildfire in 1989, said:
My role isn't about changing our culture in the Royal Navy or the UK. My task is to make Service personnel aware of the other religions, customs and behaviour and in doing so provide a climate of mutual understanding and respect.
If there is a requirement for being dressed modestly, then the ship's company need to be told in advance to bring appropriate clothing for when going ashore. Likewise if there are restrictions on drinking when ashore during a specific period, then they need to know so as not to have high expectation or indeed to avoid breaking the country's rules.
In fact it goes both ways as I'm also the main point of contact for providing advice to embarked foreign guests and VIPs on the rules, regulations, conduct and protocols whilst on board Her Majesty's ships.
This mutual understanding makes it easier for us to work more closely with our partners, enhances our influence in the region and enables us to better represent the UK abroad.
The role of the CULAD also extends to assisting with key leader engagement. This was demonstrated during the Cougar 11 deployment when Commodore Al Amri and his team from the Kingdom of Saudi Arabia came onboard HMS Albion to oversee Exercise Red Alligator.
Embarkation of Emirati officers and 22 Emirati marines during Exercise Sea Khanjar added further opportunities for face-to-face meetings, interaction and key leader engagement. Commander Guy continued:
The presence of a Muslim officer as Cultural Advisor for the first time on board a Royal Naval warship was certainly noticed by the Saudi and Emirati teams. Not only did it gain their trust but it established the UK as a better prepared partner than our competitors.
Captain James Morley, Commanding Officer of HMS Albion, said:
The importance of the work undertaken by HMS Albion and the Task Group in the Middle East during Cougar 11 cannot be underestimated. The region contains some of the world's busiest and most important shipping routes, linking Europe and North America with China and the Far East. Security and stability here is absolutely critical to the prosperity and well-being of the UK.
Published 11 August 2011