Navy crew help farmer injured in tractor accident
HMS Gannet's duty Search and Rescue Sea King went to the aid of a farmer trapped beneath an overturned tractor last week.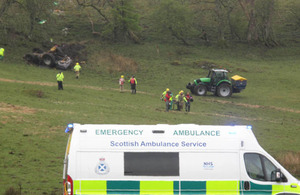 Called at 0901hrs on Thursday 19 April 2012, the HMS Gannet helicopter based at Prestwick was airborne at 0910hrs and on scene at the farmland near Straiton in Ayrshire by 0923hrs.
On arrival at the farm, the duty team was able to winch two crew members down to the area to join Strathclyde Police, the Scottish Ambulance Service and Strathclyde Fire and Rescue officers who were already on the scene, before landing the aircraft close by.
The trapped man was clear of the vehicle when the helicopter arrived. His injuries were unknown and, considering the weight of the tractor, it was feared that they were serious.
For this reason the decision was made to transfer him rapidly by helicopter to Ayr Hospital where he could be expertly assessed as quickly as possible.
HMS Gannet's duty aircrewman Sergeant Lee Haggerty, along with paramedic Petty Officer Taff Ashman, worked alongside paramedics from the Scottish Ambulance Service to assess and stabilise the patient for transfer.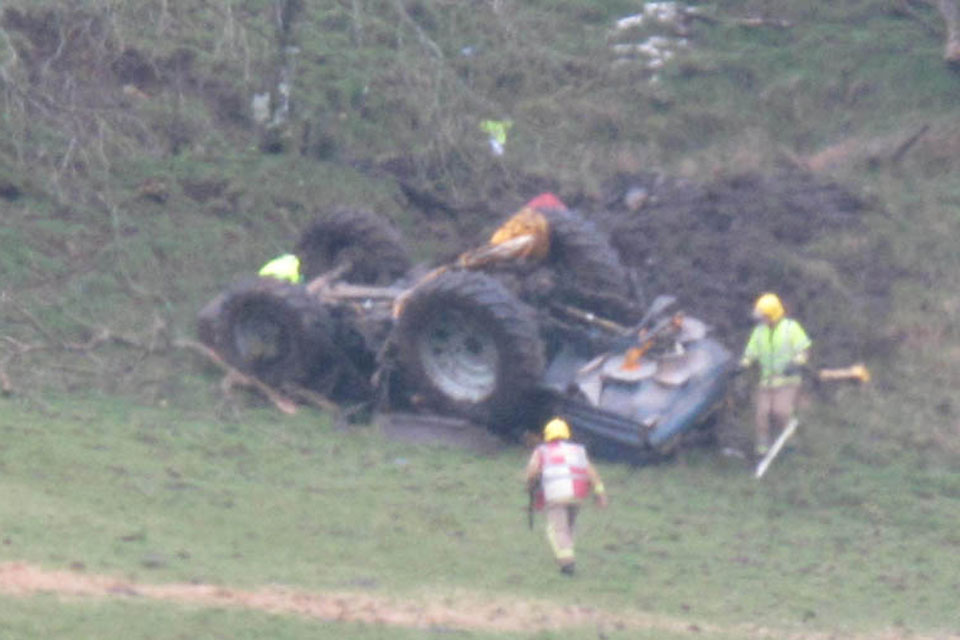 Petty Officer Ashman said:
It looked like the tractor had slipped on mud and then capsized - it all looked quite nasty. Since we weren't able to determine the scale of his injuries in situ, it was vital to get him to specialist care as quickly as possible, and the helicopter was by far the most rapid way to achieve that.
Departing from Straiton at 0940hrs, the Gannet Sea King was on the ground at Ayr Hospital by 0946hrs.
A spokesperson for Ayr Hospital described on Friday the farmer's condition as stable:
I'd say it's pretty amazing," continued Petty Officer Ashman. "The tractor was in quite a mess, so I'd say he's been fairly fortunate.
The full HMS Gannet duty crew comprised Lieutenant Commander Geoff Richardson and Lieutenant Mark Wielopolski (pilots), Lieutenant Angela Lewis (observer), Sergeant Lee Haggerty Royal Marines (aircrewman) and Petty Officer Taff Ashman (paramedic/aircrewman).
Published 24 April 2012