News story
Navy-based submarine rescue system goes airborne
The NATO Submarine Rescue System (NSRS), which is based at HM Naval Base Clyde in Scotland, was deployed by air for the first time last week to be a part of a major exercise in Norway.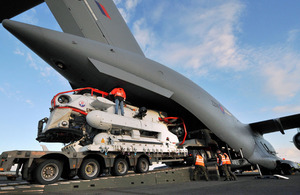 The £47m system was loaded onto two giant Boeing C-17 Globemasters and three Antonov 124 aircraft before taking off for Bergen to participate in Exercise Golden Arrow.
The system can be deployed at a moment's notice anywhere in the world to the scene of a submarine in distress.
Although the rescue system has been put through its paces many times before, this was the first time that it had been deployed by air - an important milestone in proving that it is fit for purpose.
Brian Grant, Base Manager for the NSRS, said:
This is the final tick in the box so that Rolls-Royce, who operates the system, can prove to their customer - the Ministry of Defence - that they've got a working system that can be deployed anywhere.
We train constantly and are looking forward to arriving in Bergen for the next stage of the exercise.
The rescue system left its home at the naval base in Faslane in a fleet of 28 lorries and on arrival in Norway was installed in a 'mother ship'.
Twelve Babcock workers were on hand to help with this operation, as well as a team of welders whose job it was to fit the system's framework to the vessel:
We will be sailing the mother ship to the North Sea before deploying the system," Mr Grant continued. "What it will involve is sending down our remotely-operated vehicle to a target on the seabed and successfully deliver life-pods.
We will also be testing our manned Submarine Rescue Vehicle [SRV], again to prove that we can successfully dock with the target which simulates a submarine's escape hatch. The SRV is piloted by three people and can rescue up to 15 trapped submariners at a time.
After the exercise the mother ship will sail back to the UK where it is due to dock at Leith on 13 March 2011.
Jointly owned by the UK, French and Norwegian navies, the NSRS is made up of three different independent systems.
The first is a remotely-operated vehicle which can be used to locate a submarine in trouble, clear debris from the vessel and deliver life-saving pods full of food, water and oxygen through the escape hatch.
The second system is the SRV itself. Christened 'Nemo' by the pilots who operate her, the SRV is a manned vessel that can dive to depths of up to 610 metres and evacuate up to 15 people at a time.
The third part of the NSRS is the TUP (Transfer Under Pressure) system, a portable decompression and medical support unit that can take up to 68 people.
Not surprisingly, getting the system out to the scene of an incident is a massive logistical challenge.
Published 4 March 2011