Navy and RAF Search and Rescue teams in action
A Royal Navy Search and Rescue team helped rescue a father and son who had fallen down cliffs in Scotland this week, while an RAF crew rescued a teenage girl stuck in mud near Middlesbrough.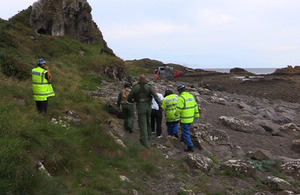 On Monday, a 17-year-old male lost his footing and tumbled some 20-30 feet (6-9m) down a steep outcrop onto the rocky beach below at Dunure, near Ayr. His father then slipped while trying to rescue him.
The Royal Navy duty crew at HMS Gannet, the UK's busiest Search and Rescue unit, based at Prestwick, was scrambled to the scene by Clyde Coastguard at approximately 1805hrs, and arrived at Dunure a mere five minutes later.
The teenager was lying on the rocks at the bottom of the slope and the second casualty was beside him. Lieutenant Alex Stevenson, the duty observer and navigator, explained:
We landed the helicopter on the beach around 200 yards [180m] away from the casualties. The coastguard team was already on site and our immediate priority was to assess the casualties and make any preliminary treatments, particularly pain relief in this instance.
The older of the two casualties had sustained only minor injuries and was able to walk, but the younger one had a suspected broken leg and we elected to stretcher him and winch him onto the aircraft. This was the more comfortable option for him, rather than be carried the 200 yards to the helicopter across quite a rocky shoreline.
It was all reasonably straightforward in good visibility and moderate conditions, but the fact that we were able to be on scene so rapidly no doubt saved the younger casualty having to endure what was probably fairly severe pain for too long.
The Sea King Mark 5 then transferred the casualties to Crosshouse Hospital in Kilmarnock, where they arrived at approximately 1905hrs.
Also on Monday, a Sea King helicopter from A Flight, 202 Squadron, based at RAF Boulmer in Alnwick, Northumberland, rescued a 13-year-old girl stuck in mud at Skinningrove, near Middlesbrough.
She had been out with her grandfather walking their dog when she became stuck in a mud pool on a cliff about 100 feet (30m) above the beach. She had sunk up to her waist, but, in the struggle to get out, had fallen and sustained back and thigh injuries.
A cliff rescue team, Fire, Ambulance and Police were already on scene when the helicopter arrived and an RAF winchman was lowered to assess the situation.
Winchman Flight Sergeant Andy Unsworth said:
It would have been dangerous for the rescue team to carry a stretcher back down the cliff over the mud, the young girl was also mildly hypothermic and we needed to get her warmed up as soon as possible.
The young girl was strapped to a stretcher, winched back up to the helicopter and then flown to the James Cook University Hospital, Middlesbrough, with her grandfather.
Published 17 August 2011