Naval reservists' role in Cougar 11 deployment
Amongst the personnel deployed with the Royal Navy's Response Force Task Group Cougar 11 deployment, whose lead ships arrived home yesterday, were a small group of individuals from the Royal Naval Reserve.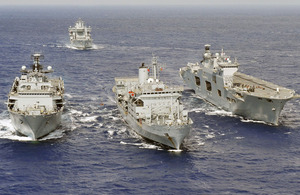 Over a dozen reservists took a temporary break from their civilian jobs to sail as part of the Cougar 11 deployment, in periods ranging from a couple of weeks to several months.
By doing so, they swapped careers in fields such as accountancy, the oil industry and politics for roles supporting amphibious warfare, media operations and logistics.
The Royal Naval Reserve is the naval equivalent of the Territorial Army. It exists to support the Royal Navy at times of maximum effort - not merely as a source of spare hands or by backfilling roles at home, but by providing niche specialist capabilities and expertise to front line operations.
Cougar 11 was the first deployment of the Response Force Task Group - the UK's maritime quick reaction force, and a new initiative announced in last year's Strategic Defence and Security Review at the heart of the UK's maritime contingent capability to be held at very high readiness to respond to unexpected events worldwide.
The Task Force flagship, HMS Albion, and her escorting frigate, HMS Sutherland, both arrived back in their home port of Plymouth yesterday, Monday 8 August 2011.
Amongst the Naval Reservists deployed with Cougar 11 was Lieutenant Alec Harper, an investment manager from London, who said:
I couldn't turn this one down. The opportunity to serve on the Royal Navy's flagship doesn't come along every day. With everything going on in North Africa and the Middle East, this felt like a chance to contribute to something that mattered.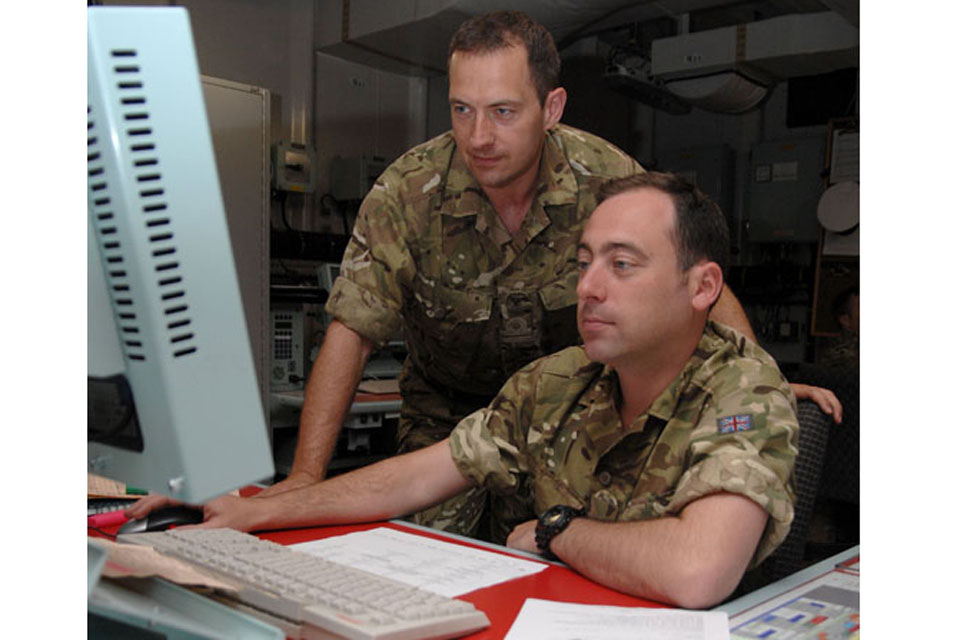 Lieutenant David Bayntun normally works as a civil servant in London where he is responsible for helping to enforce fishery protection legislation. However, at the end of March, Lieutenant Bayntun sailed from Plymouth on board assault ship HMS Albion.
Lieutenant Bayntun is one of several reservists who have been working in HMS Albion's state-of-the-art Combined Operations Room, from where the ship can direct operations at sea, on land and in the air.
Their role is to help oversee the critical and complex task of directing movements of people, landing craft and helicopters to and from the shore, a procedure known as STOM (Ship to Objective Manoeuvre). He said:
As a watchkeeper, my role is a bit like that of an Air Traffic Controller, only we have to worry about boats as well as aircraft and we operate in a potentially hostile battlespace.
Our task is to make sure the Royal Marines and their equipment arrive on the beach in the right order, at the right time. The key thing is to prioritise movements in accordance with the mission objectives.
Another watchkeeper on the deployment was Sub-Lieutenant Richard Notley who lives in Pimlico and normally works as a data analyst for a pensions company. Sub-Lieutenant Notley was assigned to the helicopter carrier HMS Ocean for his first operational duty at sea. He said:
The largest difference is that this job is not nine-to-five. Often boats' helicopters move in the hours of darkness and you have to adjust to working at any hour of the clock.
For Lieutenant Richard Turley, a business consultant from the Wirral, there was an obvious connection with his civilian background. Lieutenant Turley worked for the ambulance service for almost ten years, including two years as a control room officer:
I remember at the time of the millennium celebrations we had numerous competing emergency calls at the same time and only three minutes to dispatch an ambulance. It was all about multi-tasking and prioritisation, which is the same as working as a Royal Navy watchkeeper. The 'can do' attitude is something the Armed Forces and the emergency services have in common.
Lieutenant Colonel Richard Reardon Royal Marines was HMS Albion's Amphibious Operations Officer. He is in no doubt of the benefits of having reservists on his team:
The Royal Naval Reserve [RNR] is key to enabling my team to operate for an extended period of time. Reservists are probably among the most useful augmentees one could wish for. They step in, do the job and step out again, without spending a huge amount of time training.
Many of them bring skills with them from civilian life. I've had reservists who work in air traffic control, with the emergency services, and in the commercial maritime sector, and they bring a different perspective to the role.
Another reservist on the deployment was Lieutenant Jeremy Olver who has worked in the House of Commons as a researcher for Members of Parliament.
He believes that his experience in the reserves can give him an edge over his civilian colleagues:
A lot of people complain that people in politics are increasingly professional and have little experience of the 'real world'. I value being a reservist because it gives me that appreciation of how things are outside London, which can be something of a bubble.
The time I served on board a Turkish warship as part of an international anti-piracy operation particularly stands out. Only when you go to places like the Gulf of Aden and Strait of Hormuz and see tanker after tanker do you realise the scale of international shipping.
Lieutenant Roy 'Dusty' Miller, from Hyde in Cheshire, is director of a Manchester-based logistics company, specialising in importing new, empty plastic bottles and buckets from all over Europe and selling them to a wide range of customers including pharmaceutical, agrochemical and food suppliers:
My civilian colleagues love it. I have them all trained in Navy slang and we recently painted the warehouse blue and grey to capture a nautical theme.
A member of the RNR logistics branch, Lieutenant Miller was appointed Forward Logistics Site Commander for Cougar 11. This involved managing a small team of logistics personnel deployed to foreign ports in order to support the Task Group through the movement of personnel, mail and cargo:
I am totally convinced that I bring my civilian skills into my naval role.
Being an officer in the Royal Navy is not too dissimilar to being a manager, but I think because of my civilian background, my style of leadership is less military and this can be refreshing at times. I can convince a door to open, rather than needing to order the door to open.
When you are in the middle of an operation such as this, you realise what you are capable of, both as a team member and an individual. It gives me a massive sense of job satisfaction and self-worth - something which is not so common in the civilian world.
Commodore John Kingwell, Commander UK Task Group, said:
The Royal Navy's Response Force Task Group draws upon expertise and capabilities from across the UK Armed Forces. It includes members of the Royal Naval Reserve who, through their civilian skills and specialist training, make a major contribution to the front line.
Published 9 August 2011