Naval rescue crew saves cow from Cornish cliffs
A Search and Rescue (SAR) team from 771 Naval Air Squadron at Royal Naval Air Station Culdrose recently assisted a farmer by lifting his stranded steer off Cornish cliffs.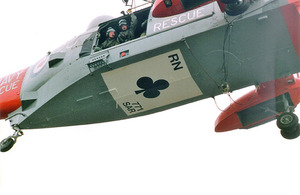 The naval crew were called to the scene near Port Isaac, where the steer had been stranded on the rocks for over a day, by the RSPCA. Had the Search and Rescue team not saved the animal it would have had to be put down.
Lieutenant Commander Martin Shepherd and Lieutenant Commander Tim Hayden piloted the helicopter, with Chief Petty Officer (CPO) Mark Shaw and Sergeant Tony Russell Royal Marines organising the net, slings and the 80-foot (24m) strop with which to lift the steer from the rocks back to a nearby field.
CPO Shaw and Sergeant Russell had to clamber several hundred yards across fields from where the helicopter initially landed to reconnoitre the scene where the steer had fallen and it was only with the assistance of the Port Isaac Cliff Rescue Team that they were able to be winched down safely onto the rocks below.
With a vet and the farmer in attendance to calm and sedate the steer, which was somewhat alarmed by its predicament and the noise of the helicopter, CPO Shaw and Sergeant Russell were able to manhandle the animal into the net, attach the slings and prepare the strop.
Under the precise directions given by CPO Shaw the helicopter was skilfully manoeuvred to a point 100 feet (30m) above the steer and then slowly lowered to allow Sergeant Russell to hook up the strop and safely lift the steer up, up and away.
Once safely back in a nearby field, the farmer and the vet were able to quickly bring the steer around and within several minutes it was able to clamber back to its feet with no ill-effects. 771 Naval Air Squadron's Commanding Officer, Lieutenant Commander Chris 'Damage' Canning, said:
The ability to load-lift is a vital role for the squadron, and, although more used to underslinging fuel, food, water or vehicles, this task certainly challenged my team.
I am absolutely delighted that the planning, preparation and professionalism of both my team and the Port Isaac Cliff Rescue Team, which, combined with the RSPCA's, ensured that our SAR skills could also be of assistance on this occasion.
CPO Shaw said:
I thought it was a mooooving experience.
Published 8 June 2011