Naval officers fly high in sea of sand
In April, Royal Navy pilots James Birchall and André Milne completed what has been described as 'the toughest foot-race on Earth' - the gruelling Marathon des Sables race across the Sahara Desert.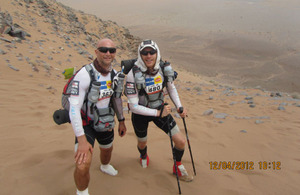 The two 37-year-old Lieutenant Commanders, from the Commando Helicopter Force at Royal Naval Air Station Yeovilton, took on the 154-mile (247km), six-stage running race with temperatures frequently exceeding 45 degrees Celsius (113 degrees Fahrenheit); conditions that made them treasure every drop of their nine-litre daily water ration, particularly during the long stage of 51 miles (82km).
The water ration meant no washing for six days, and self-sufficiency demanded the pair carry specialist lightweight food and equipment, and only one set of clothes each. Luckily, the naval airmen did not require any emergency intravenous drips, and the camel walking at the back of the runners did not catch them up; either would have meant their disqualification from the race.
The searing heat and self-sufficiency were enough of a challenge, but throw in the difficult terrain and it is easy to see why so few people take on this race. However, around 860 competitors from 43 nations around the world competed this year and ran across the massively diverse Moroccan Sahara, touching the edge of the Atlas Mountains.
Lieutenant Commanders Birchall and Milne crossed vast expanses of 'beach-like' plains, volcanic rock fields, dry river beds, powdery sand dunes, and huge rocky hills or 'jebels'.
Despite the high of finishing, after the race Lieutenant Commander Milne said that the low point for him was the 'unimaginable number of dunes covered':
I managed to empty half-a-dune out of my left shoe on the final day and have kept some in a tub as my own unique reminder to not do the race again," he confessed.
Lieutenant Commander Birchall said:
It was spectacular, but we had little time to enjoy it. We were pushing hard, running together to keep our speed as high as possible. You had to keep focused, and your mind was constantly busy evaluating your body to identify problems as soon as they developed.
In parallel, we frequently drew strength from the huge support we were receiving and, for this, we can't thank people enough; we never felt alone whilst running.
Both runners have been overwhelmed by the huge support for their efforts and, as a result, never doubted their own physical resolve.
Lieutenant Commander Milne said:
No doubt it was tough, but we have been blown away by the public's generosity and are amazed we only have a few more steps to reach our revised target of £20,000.
The pair exceeded their initial target of £12,000, but donations for their chosen charity the Children's Trust can still be made at their Just Giving page, which is linked to at the right-hand side of this page.
The Children's Trust is a national charity providing care, education and therapy to children with multiple disabilities and complex health needs across the UK. It also provides rehabilitation for children following acquired brain injury, giving them the best opportunity to succeed at home and at school.
The two family men felt a huge affinity to the cause, not least of all as a result of the great work they both witnessed during their visit to the Trust; this certainly made their extreme challenge 'easier' to endure.
Published 9 May 2012