Naval duo carry Olympic Torches
A Royal Marine who survived major brain tumour surgery and a Royal Navy student nurse, who is raising money for charity in honour of troops killed in Afghanistan, have carried the Olympic Flame for part of its journey through North East England.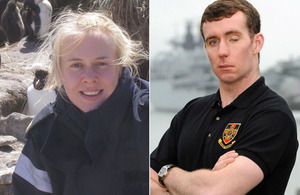 Corporal Ian Ronald, from Chester-le-Street, carried the Flame through Consett on Saturday 16 June as it progressed from Gateshead to Durham, while Able Rate (AB) Ellie Walls, from West Ayton, carried it through her home town of Scarborough on Monday 18 June.
Corporal Ian Ronald
Cpl Ronald joined the Royal Marines in 2001, completing a tour of Afghanistan in 2006/07. In 2008 at the age of 24 on a promotion course he developed a constant headache and noticed deterioration in his hearing. While on leave in Newcastle he visited his GP who immediately referred him to a neurologist.
The neurologist sent him for an MRI scan and he was subsequently informed that it was a brain tumour. In May 2008 Newcastle General Hospital performed major intrusive brain surgery in an attempt to remove the tumour.
The surgery took around 12 hours to complete and removed approximately 95 per cent of the tumour. Cpl Ronald said:
Following surgery my mother was informed that I was lucky to have survived the operation and that I would never walk or talk again.
As a result of the surgery he sustained loss of speech, loss of movement from the neck down, loss of the ability to swallow, loss of hearing on his left side, loss of sight, facial paralysis, loss of taste and smell, co-ordination and dexterity problems, and no natural balance.
Thankfully though there was an up side:
The tumour wasn't cancerous, which was a bonus!" he added.
There followed eight weeks in hospital and four-and-a-half months in a neurological rehabilitation centre:
Basically everything that we take for granted and learn to do throughout our childhood I was now relearning," he said.
To me, going through this in the 'honeymoon period', for want of a better phrase, I viewed it as an injury and thought I'd be all right and back on my feet with a bit of hard work. With my military background and having always been active I thought the sooner I could get back into training the swifter the recovery would be.
Moving to the Defence Medical Rehabilitation Centre in Headley Court, Cpl Ronald was allowed to exercise, and as his speech improved he concentrated more on the physical side. He then eventually moved back to Newcastle to start work with the Royal Marines Reserve Tyne.
In 2009, less than a year after being in a wheelchair, he competed in the Great North Run, completing the half-marathon in less than four hours, and he also got involved with the Not Forgotten Association, a military charity, and took part in a canoeing expedition in the south of France.
In 2010 he completed the Great North Run in two hours forty minutes and took part in a trekking expedition to the Everest Base Camp.
Cpl Ronald is now part of Hasler Company, the Royal Marines unit which is part of the rehabilitation pathway in Plymouth. He said:
I've managed to continue overcoming this minor hurdle of that pesky brain tumour. Something extremely negative happened to me; however all my hard work and resolve has paid off and this has presented many positive opportunities.
I've always been a firm believer that feeling sorry for yourself gets you nowhere and that life goes on. My rehabilitation has consumed my life for the last four years and this monumental occasion is such an honour to close this chapter of my life with and move forward.
Able Rate Ellie Walls
A student nurse from Scarborough, who is currently studying at the Defence School of Health Care Studies in Birmingham, AB Walls joined the Royal Navy in 2003.
She served on HMS Westminster in 2006 during a deployment to the Far East and on Royal Fleet Auxiliary vessel Largs Bays on counter-narcotics operations in the Caribbean in 2008. She now works in safety equipment at Royal Naval Air Station Yeovilton.
AB Walls began her nurse training in 2009, and will graduate in October this year. But it is her tireless work for a military charity which brought the student to the notice of the selectors for the Torch Relay. She said:
In July last year I decided to raise money for charity as I had recently started running and enjoyed it. I also wished to give something back to the military community of which I am part.
It took a while but I decided that I would like to do something for a charity that supports all aspects of military life and chose SSAFA [Soldiers, Sailors, Airmen and Families Association].
My challenge would be to run one mile [1.6km] for each UK Service person that has died in Afghanistan since the conflict started.

It's not just about raising money, for me it is very spiritual. In fact I think for me it is more about the remembrance aspect. I run with the names of those who have died on the back of my shirt and feel like I'm running one last mile for them.
I'd like to think someone would pull on a pair of trainers and go running for me if I was on the list of those who had died. I have now run for 346 names.
AB Walls was nominated by her friend Simon Bruce Lake, but she felt so strongly about wanting to run that she also nominated herself to increase her chances:
Those who died had no chance of being nominated or running with the torch," she continued. "I hope that in running in their memories I remain humble. It is an honour to carry the torch and represent so many brave men and women.
Published 22 June 2012