Naval charities receive a massive lift from Pembroke
Sailors on minehunter HMS Pembroke stripped off for charity - but not to produce a calendar.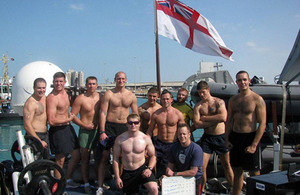 Eleven crew from the Gulf-based ship pumped iron on the upper deck, lifting the equivalent weight of the ship - 600 tonnes - in just two hours and raising £1,300 for good causes in the process.
The 'Lift the Ship' event took place while the minehunter enjoyed a restful spell alongside in Abu Dhabi in the United Arab Emirates after a busy patrol.
The ship's steward, Able Seaman (Logs) James Coombes, spotted the opportunity for one last big event before Pembroke's current crew return home to the UK at the end of a seven-month deployment.
As the unofficial fitness instructor on board, AB(Logs) Coombes press-ganged his fellow sailors (including the Commanding Officer Lieutenant Commander Richard Hutchings) into undertaking this mammoth challenge in order to raise money for Pembroke House and the Royal Navy and Royal Marines Charity (RNRMC).
AB(Logs) Coombes, 23, said:
We've had a great tour of duty out here in the Middle East and, with a stint alongside in sunny Abu Dhabi, I thought we should do something special for our ship's charities that do such brilliant work for the Royal Navy community.
So how did they 'lift' the ship? Each person had to bench press 20 tonnes, squat 18 tonnes, 'bent over row' lift 15 tonnes, and mill press seven tonnes - that meant each person lifted heavy weights over 1,700 times.
Amazingly, the extreme exercise session was completed in under two hours, leaving most of them feeling only slightly tired! However, it was all worth it as over £1,300 has been raised so far.
Pembroke House is a Kent-based care home run by the Royal Naval Benevolent Trust for former Royal Navy personnel and members of the Trust. The RNRMC is a conglomerate of many naval-orientated charities and aims to improve the quality of life and welfare of serving and former Royal Navy and Royal Marines personnel.
Even though the physical challenge is over, the fundraising continues. Donations can still be made online.
Published 19 January 2012