News story
NATO: one week to go
Defence will play an important role at the NATO Summit next week.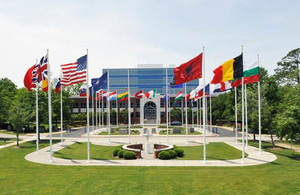 In one week's time, the world's attention will focus on Wales. Heads of government from the 28 NATO member states and senior dignitaries from NATO's 30 partner countries arrive at the Celtic Manor Resort in Newport for the 2014 NATO Summit.
The summit comes at a key time for the organisation. It is an opportunity to ensure that NATO continues to be at the forefront of building stability in an unpredictable world.
Although the NATO mission in Afghanistan is coming to an end there are still issues to address, with instability in Ukraine and in many other areas of the world hitting the headlines on a daily basis.
All 3 armed services will play an important role at the NATO Summit next week. HMS Duncan will host a defence ministers' dinner and ceremonial sunset, an array of army equipment and capabilities will be on display, and RAF aircraft including Typhoon, Voyager and the Red Arrows will lead a multinational flypast at Celtic Manor.
Military personnel will also play an integral role in the running of the event. Summit delegations and the world's media will be met at the Manor by uniformed service personnel and 120 tri-service liaison officers will act as hosts to the delegations throughout their visit.
But it's not just regular personnel supporting the NATO Summit; around 92 reservists from all 3 services will take time off from their civilian jobs to play their part in our nation's security. With the support of their employers, these reservists will join their regular counterparts in assisting with the security of this important event.
The benefit of having both regulars and reservists means that the right people with a particular set of skills can be utilised in the right places. It also demonstrates how closely the reserves are integrated with the regular units, which is a requirement for almost all military operations, both overseas and at home.
If the idea of joining UK personnel who play a vital role in assisting with the running of events like the NATO Summit inspires you to join the reserves, you can find out more information here:
Royal Naval Reserve landing page
Published 28 August 2014