World news story
NATO foreign ministerial preview: what's on the agenda?
William Hague will represent the UK at this week's meeting of NATO foreign ministers. Find out what he'll be discussing in this preview.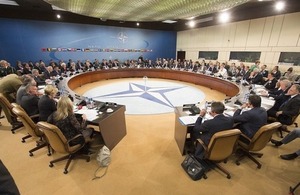 NATO foreign ministers will gather in Brussels this week for an important meeting to prepare the way for the NATO Summit in the UK next year. The Summit, which will take place in south Wales on 4th and 5th September 2014, will be an important event for the transatlantic Alliance, as the UK and our Allies mark the end of the ISAF mission in Afghanistan and look to maintain and develop the Alliance's capabilities. This week's ministerial, which takes place on 3rd and 4th December, will also see a meeting of the NATO-Russia Council and the NATO-Georgia Commission.
Day 1
How to strengthen NATO's partnerships will be one of the issues on the minds of foreign ministers at this week's ministerial. Partnerships considerably add to NATO's capabilities as an Alliance. They bring additional knowledge, unique perspectives, greater capacity to tackle security challenges and, when necessary, increased political weight for collective action. Allies will discuss how to maximise inter-operability with partners and look to further strengthening relationships beyond 2014. In the evening foreign ministers will also discuss NATO's open door policy.
Day 2
Ministers will attend a meeting of the NATO-Russia Council (NRC) to discuss cooperation with Russia in 2014. The NRC meets regularly to discuss how Allies and Russia can work together on issues of mutual interest. Recent examples of this cooperation include the Vigilant Skies exercise where Russian, Polish and Turkish military planes tested their readiness to detect and respond to hijacked planes in the Cooperative Airspace Initiative. The NRC was also recently briefed by the Organisation for the Prohibition of Chemical Weapons on the elimination of Syria's chemical weapons arsenal. Ministers on Wednesday will also hold a session with ISAF partners where NATO's post 2014 training and advisory mission will be discussed. As well as this a meeting of the NATO-Georgia Commission will take place. This will be the first meeting at ministerial level since the recent presidential elections in Georgia and will be a good opportunity for Allies to exchange views with Georgia on how NATO can further deepen its cooperation with the country and to encourage further reforms.
Follow us on twitter @UKNATO for all the latest from the foreign ministerial
Published 2 December 2013