NATO Foreign and Defence Ministers' meeting
The Foreign Secretary, William Hague, and the Armed Forces Minister, Nick Harvey, met at NATO Headquarters in Brussels yesterday for meetings with Foreign and Defence Ministers from the 27 other NATO nations.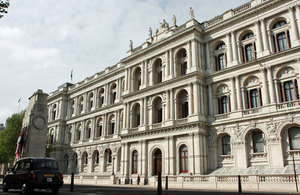 William Hague meets with NATO Secretary General
The talks focussed on NATO's future, including reform of the Alliance's structures and capabilities and the new Strategic Concept, which will be agreed at the Lisbon Summit in November. The final Strategic Concept will define NATO's mission in the coming years, and the UK is keen to ensure NATO can deliver a robust and credible response to future challenges to Alliance security while continuing to defend itself against traditional threats.
The Armed Forces Minister welcomed the progress that has already been made towards reductions and efficiencies in the NATO Command Structure and NATO agencies, but called for more ambition and rigour to be applied before the Lisbon Summit. He told Allies that future NATO structures must be in line with the priorities of new Strategic Concept and make good military sense. They also must be affordable, which means further improvements to the management of NATO's financial resources in a tight resource climate. Mr Harvey assured the Secretary General and Allies that the UK would fully support the NATO reform agenda at Lisbon and beyond.
The Foreign Secretary told Allies that NATO is and will remain the cornerstone of the UK's security and defence. The Strategic Concept should ensure NATO remains committed to collective territorial defence. But the Alliance must in future be equally committed to addressing threats to its own security which emerge beyond its borders, such as terrorist networks like Al Qaeda exploiting ungoverned space. Mr Hague underscored that to deal with new and complex threats effectively, NATO will need to be adaptable, prioritise well and work co-operatively with a range of partners, including other organisations, particularly the EU.
The Foreign Secretary was also able to discuss with NATO counterparts the UK's Security and Defence Review, which will be published next week.
Commenting in Brussels after the NATO meetings, Mr Hague said:
"Within the context of NATO, the United Kingdom will remain a military power of the first rank and we will continue to have an independent nuclear deterrent, to have formidable intelligence agencies, to have flexible and highly deployable armed forces. I discussed this with Secretary Clinton yesterday and so I think the United States has a good understanding of the position and we will discuss it further with them and all our Allies after we've made our announcements next week."
Joint Foreign and Defence Ministerial
Search the news archive
Published 15 October 2010