NATO claims 'successful year' in Afghanistan
A spokesman for NATO-led forces said that 2011 had been a 'remarkably successful year' in the fight against insurgents in Afghanistan and in the development of the Afghan security forces.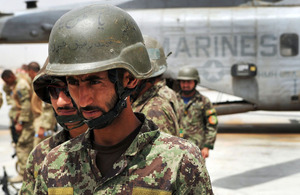 In the southern Taliban stronghold, 'considerable advances' had been made in securing Kandahar City and its environs, said International Security Assistance Force spokesman Brigadier General Carsten Jacobson:
The success has been so great that insurgents have largely lost control of the area and now rely on IEDs [improvised explosive devices] as their primary method of attack," he said.
And in the east, forces had he said:
…significantly disrupted the Haqqani Network through Operations SHAMSHIR and KNIFE EDGE, where coalition forces captured or eliminated over 500 insurgent leaders and fighters last fall.
The Haqqani Network has been blamed for a series of high-profile attacks in Kabul, including one on the US Embassy in September last year.
The network is based in the Afghan-Pakistan border region, which Brigadier General Jacobson said would remain a key focus for operations.
Kabul itself had, he said:
…become a thriving commercial capital, able to absorb and respond to spectacular attempts to disrupt security with resolute response to insurgent attacks, leaving the insurgents largely in a state of failure.
Brigadier General Jacobson said Afghan forces were clearly in control of the city, as part of a phased transition ahead of a pull-out of NATO combat troops in 2014.
His remarks came in stark contrast to perceptions that security has worsened in the Afghan capital over the last 12 months, with a series of spectacular attacks on Western targets, such as the US Embassy siege.
The Afghan Army was now almost 180,000-strong, the Afghan Police has nearly 144,000 men and women in uniform, and by spring of this year security responsibility for more than 50 per cent of Afghanistan will be under Afghan control, he said.
Published 26 January 2012