National witness protection scheme announced
The creation of the first UK-wide witness protection service was announced today. Witnesses and other vulnerable people afforded protected…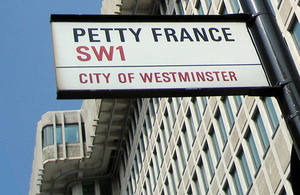 The creation of the first UK-wide witness protection service was announced today.
Witnesses and other vulnerable people afforded protected person status due to a real and immediate risk to their lives will receive enhanced UK-wide protection and support. 
The new UK Protected Persons Service will support those who help bring criminals to justice by:
Introducing national quality standards,
Ensuring better co-ordination across existing fragmented services,
Promoting intelligence sharing between police forces, and
Strengthening local services to create a consistent and accountable service. 
Victims' Minister Helen Grant said:
'Witnesses are the unsung heroes of society, especially those who could be jeopardising their own safety. I cannot thank them enough for the vital role they play in bringing criminals to justice.
'We are clear any witness whose life could be in danger must be given the best possible protection. The UK Protected Persons Service will ensure those in need receive the expert protection and support no matter wherever they are in the UK.'
ACPO lead for protected persons Assistant Chief Constable, Andy Cooke said:
'A UK-wide protected persons service which is regionally delivered by the police service, but coordinated through the National Crime Agency, will strengthen the fight against organised crime. 
 'Chief Constables support the plan for its development and believe it will provide a more consistent approach to delivery of protected persons services across the country. The service will be working closely with government and the NCA to bring this new national service into being.'
Witness protection plays an important role in tackling organised crime and securing convictions in a number of the most serious and violent crimes. At present protected person services are inconsistent, variable and lack uniform standards of delivery. Last year just over one in four (27%) of collapsed prosecutions were as a result of witness or victim reticence to give evidence.12 In 2009/10 18%3 of witnesses who attended court to give evidence reported that they or their family felt intimidated at some point and 40%4 reported concerns about coming into contact with the defendant and their supporters.
Notes to editors
Crown Prosecution Service data 2011/2012.
Only a small proportion of these were as a result of fear of serious harm
Franklyn (2012), Satisfaction and willingness to engage with the Criminal Justice System. Data from the Witness and Victims Experience Survey (WAVES) 2009/10.
Ibid.
Published 28 December 2012