National rollout of scheme to protect children
Scheme allowing parents to ask police whether people with access to their family are sex offenders rolls-out nationally today.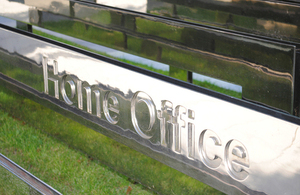 The Child Sex Offender Disclosure Scheme provides members of the public with a way to check whether people who have contact with their children are a possible risk - and if it can help keep children safe the police will pass on information.
Having already protected more than 60 children from abuse during its pilot, the scheme is expanding to eight additional forces from today, taking the total number of areas covered to 12. A further 12 forces will come online by the autumn and the remainder of areas by spring next year.
Home Secretary's statement
Home Secretary Theresa May said:
'The roll-out of this scheme is an important step forward for child protection in this country. Being able to make these checks reassures parents and the community and more importantly keeps children safer.
'Not only will it help parents, carers or guardians ensure that their children are safe, but it also assists the police in managing known sex offenders living in the community more effectively.
'The start of the nationwide roll-out will mean even more children will be protected from potential harm.' 
How it works
Under the scheme a parent, carer, guardian or another interested party, can ask the police to check whether someone who has access to their children has a record of committing child sexual offences. 
If they are found to have convictions for sexual offences against children, and pose a risk of causing serious harm to the child or children concerned, then this information may be disclosed. 
Statement from the Association of Chief Police Officers
ACPO lead on the Management of Sexual and Violent Offenders, Chief Constable Paul West, said:
'One of the police service's most fundamental roles is to do whatever we can to protect people from harm. The introduction of the Child Sex Offender Disclosure Scheme represents a major development in our ability to safeguard children.
'As well as empowering parents, carers or guardians to take active steps to protect their children, some of the cases experienced in the pilot force areas have involved concerns raised by extended family members and neighbours. Their actions have undoubtedly led to children being protected from potential harm.'
Notes to editors
Cambridgeshire, Cleveland, Hampshire and Warwickshire took part in a 12-month pilot, which ended in September 2009. These existing areas are already operating the scheme.
From today they will be joined by West Mercia, Bedfordshire, Norfolk, North Yorkshire, Thames Valley, West Midlands, Essex and Suffolk.
In the autumn the scheme will roll out to Northamptonshire, Staffordshire, Sussex, Leicestershire, Wiltshire, Cheshire, Durham, Northumbria, Dorset, Lincolnshire, Surrey and Gloucestershire.
All forces will undertake an information campaign to educate the public about the scheme and work to manage sex offenders.
You can find out more information about the disclosure pilots, including leaflets and booklets being used by the police forces.
Parents who are concerned about the safety of their children can and should go to any police force at any time about their concerns - every force already has a public protection team to deal with these issues.
For details of the work undertaken by the four pilot forces contact their press offices on:
Warwickshire Police - 01926 415065
Cleveland Police - 01642 301244
Hampshire Police - 08450 454545
Cambridgeshire Police - 08454 564564
The pilot scheme in four police force areas saw:
a total of 585 enquiries and 315 applications, primarily from parents, carers and guardians
21 disclosures made about registered child sex offenders
11 general disclosures made, for example in cases relating to protection issues linked to violent offending
43 additional cases leading to a range of other child safeguarding actions such as referrals to children's social care
Read the research report into the pilot.
For more information contact the Home Office press office on 020 7035 3535.
Background
England and Wales operate multi-agency public protection arrangements (MAPPA) to manage sexual and violent offenders. Disclosure can be a tool in that management process. 
The police already disclose information about registered sexual offenders (RSOs) and violent offenders in a controlled way to a variety of people including head teachers, leisure centre managers, employers and landlords, as well as parents.
The difference in the child sex offender disclosure scheme is that there is now a more formal mechanism for a person to make an application for information about a particular individual who has contact with a child or children, thereby alerting the authorities to contact an offender may be having with a child which they may not previously have known.   
This encourages individuals to take responsibility for safety of their children and provides a way of getting more information on RSOs who are in contact with children.
Case studies
Case study 1 - Pilot disclosure
A parent makes an application regarding concerns for a neighbour who they felt was trying to befriend the applicant and their children by offering sweets.  Checks showed the subject was a child sex offender. The sex offender was subject to a court order prohibiting them from being in contact with anyone aged under 18.  The subject was subsequently arrested and remanded into custody. 
Case study 2 - Pilot disclosure
An offender subject to a Sexual Offences Prevention Order (SOPO) assessed as medium risk to children and adult females. An application was made by carers who were involved in the delivery of social care to the offender. Carers observed the subject contacting children in the street, and the visit of a child to the subject's flat. A disclosure was made to the carers and to children's social care to enable better protection and risk management for them.  An application was also made by a neighbour under the pilot scheme. 
A minimal disclosure was made to the neighbour to enable them to protect their child.  Due to this disclosure and proactive response by police and social workers, the offender remains in their home, continues to receive social care, and the neighbour has been reassured.
Case study 3 - Non-pilot disclosure
A grandparent had concerns about their daughter's new partner who they believed to be acting strangely around their grandchild.  Checks showed the subject was not a child sex offender but they did have an extensive history of violence and use of weapons. This information was shared with the children's social care department who addressed the protection of the child. Although there was no information to disclose regarding child sex offences, the danger the subject posed was highlighted to the applicant, therefore safeguarding their grandchild. This example highlights how the pilot can identify and address other potential child care concerns. 
Case study 4 - Other safeguarding action
A male was concerned about rumours that an extended family member was a child sex offender. Checks showed that the subject was a sex offender who had failed to register in accordance with the Sexual Offences Act 2003. This was referred to the children's social care department where the protection of the children in the application was addressed. Disclosure was given to the family by social workers. Without the pilot, police and the social services department would never have known this individual was in the area.
Published 2 August 2010