News story
National Citizen Service pilot: Tim Loughton meets young attendees
Children's Minister Tim Loughton visits High Ashurst Education Centre in Dorking.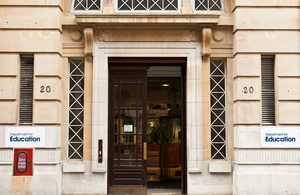 Children's Minister Tim Loughton last week visited High Ashurst Education Centre in Dorking to meet young people from Kent taking part in a National Citizen Service (NCS) pilot being run by Catch 22.
NCS brings together 16-year-olds from different backgrounds in a summer programme of challenge, service and learning, enabling them to develop the confidence, skills and attitudes they need to become more engaged with their communities.
As part of their NCS experience young people spend one week away from home taking part in outdoor team-based challenges (this is when the Minister visited the group from Kent). NCS is being piloted by 12 providers this summer with up to 11,000 young people from different areas of the country benefiting.
Children's Minister Tim Loughton said:
National Citizen Service (NCS) is an opportunity for 16 year olds across the country to take part in exciting, challenging activities and become active members of their communities. I'm delighted that so many young people are taking part in the pilots running this summer. The people I've met at the Catch 22 project in High Ashurst have been committed and enthusiastic. The activities on offer provide a fantastic opportunity for young people, whether it's grappling with the climbing wall or navigating the high ropes course. Projects like the one in High Ashurst will help young people build their confidence, develop team working skills, prepare them for supporting their local communities and have fun. I want NCS to be a rite of passage for every young person and I hope many more will benefit from NCS projects in the coming years.
DfE enquiries
Central newsdesk 020 7783 8300
General enquiries 0370 000 2288
Published 2 August 2011