News story
National Apprenticeships Week 2013
The sixth annual National Apprenticeship Week celebrates apprentices and the benefit for individuals, businesses and the economy.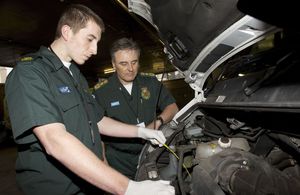 National Apprenticeship Week takes place from 11 to 15 March 2013.
There are hundreds of events throughout England with employers, apprentices, business support and sector organisations, learning providers, colleges and schools demonstrating the value of apprentices.
To mark the start of Apprenticeship Week, Prime Minister David Cameron joined Skills Minister Matthew Hancock on a visit to meet young apprentices at a training academy in Buckinghamshire. There the Prime Minister pledged to make it the 'new norm' for school leavers to take an apprenticeship or go to university.
Matthew Hancock also announced that the first postgraduate apprenticeships will start this year.
It will enable school-leavers to become accountants, airline pilots and join other professions without a university degree. Matthew Hancock said;
Britain's prosperity depends on the high-level skills that create world-beating products and services.
By creating new apprenticeships at degree level and above, the government is sending a clear signal that practical learning is a viable route to the professions.
The government will formally respond to the Richard Review, which has looked at ways to improve the quality of apprenticeships, later this week.
Message from the Deputy Prime Minister Nick Clegg to mark National Apprenticeship Week 2013. Video
The value of apprenticeships
The Centre for Economics and Business Research (Cebr) published a study on 11 March 2013 that predicts apprenticeship completions over the next decade could contribute up to £3.4 billion a year to the economy through productivity gains by 2022.
It follows an announcement from Barclays that as well as recruiting thousands of their own apprentices, they will work to promote apprenticeships to their business customers so that they create a further 10,000 new apprenticeships.
There's a range of benefits and support available in incorporating apprentices into your business:
apprenticeships ensure that your workforce has the practical skills and qualifications your business needs now and in the future
if you are small or medium size business you could receive £1,500 to take on an apprentice
taking on an apprenticeships can boost the productivity of your business by an average of over £214 per week
You can follow all the announcements, discussions and events on Twitter using the hashtag #NAW2013, and following @Apprenticeships and @bisgovuk
Published 11 March 2013