World news story
My internship at the British High Commission, Bridgetown
Deshon Griffith blogs about his internship at British High Commission, Bridgetown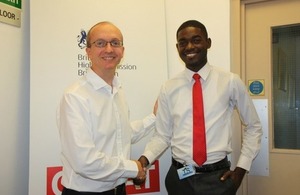 My time at the British High Commission Bridgetown can be succinctly described in one word – extraordinary!
I interned for a total of 6 weeks and 3 days, working in five (5) different departments namely, the Department for International Development (Caribbean), Corporate Services, UK Trade and Investment, Chancery and with the Criminal Justice Adviser Sirah Abraham. During this time I gleaned a wealth of knowledge about the work of the High Commission, honed my professional skills, took advantage of opportunities for meaningful networking and, overall, had an amazing time.
For my first week I worked with DFIDC which I found to be a greatly enlightening experience. I had no clue that the UK Government invests so much into regional development. Millions of pounds are consistently invested into human capacity building and infrastructural development, just to name a few areas. I was particularly excited to hear of their work in Youth Empowerment, Anti-Corruption and Climate Change Adaptation which are some of my areas of interest.
My second week was spent with the crazy yet professional bunch called Corporate Services. One tends not to get too excited about the prospects of doing administrative work however there was never a dull moment working with this team. I gained an understanding of the crucial importance of the administrative department of any organisation; more yet, a High Commission. I was also able to work as somewhat of a shadow-property manager. There was always something to do whether it was working out utilities, visiting the various properties or stock taking; and every moment of it was surprisingly fun.
Week three and four were among my favourite weeks at the High Commission. During that time I worked in the UK Trade & Investment Section with Sherry-Ann Blackett. There was loads of work to do and I thoroughly enjoyed lending assistance in the field of international trade. Our overarching task was to connect UK based companies with trade and investment opportunities in Barbados and the Eastern Caribbean and we accomplished that and more during that short space of time.
Week 5 was spent in Chancery with Political Officer and internship coordinator Gilly Metzgen. There I learned about UK's diplomatic relations with Barbados and the Eastern Caribbean through media coverage research and analysing UN publications. I also got an opportunity to learn about the fantastic Chevening Scholarship and Alumni Association funded by the UK Government.
Having a legal background I would say the experience that resonated with me the most was working with Sirah Abraham, the Criminal Justice Advisor. Being the first law student to be awarded the internship I had the unique opportunity to work with her and Paul Skipp to aid Barbados and the Eastern Caribbean in Criminal Justice Reform. There was plenty of work to be done both in and out of the office so spontaneous field trips were the order of the day. I definitely appreciated the work I was exposed to and the rare opportunities I was given, particularly attending and participating in a Judicial Officers Workshop (see below). I also gave legal opinions, drafted documents and conducted legal research.
My experience was definitely extraordinary. My work in each and every section was impactful, memorable and worthwhile and I have made connections that will stand the test of time. I would encourage any young person to apply for the internship offered by the British High Commission.
Document information
Published: 1 September 2016