Multinational headquarters prepares for global mission
Personnel from the Gloucestershire-based Allied Rapid Reaction Corps headquarters have been preparing for a 12-month posting as NATO's Response Force. Report by Richard Long.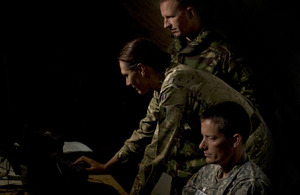 Having returned from a challenging tour of Afghanistan last year, personnel from the Allied Rapid Reaction Corps (ARRC) headquarters could be forgiven for dreaming of a well-deserved break.
But, instead of resting on their laurels, the multinational soldiers are in the midst of preparing for their next major tasking which could see them deployed anywhere in the world.
From January 2013 the ARRC will assume the role of the NATO Response Force, a 12-month posting that requires the formation to provide immediate countermeasures to emerging international threats and crises.
This could include peacekeeping missions, disaster relief and defence tasks or helping to promote national stabilisation, governance and development where needed.
Planning for this vital work is already well underway and the 450-strong headquarters staff - 60 per cent of which stem from the British Army - were put through their paces during Exercise ARRCade Returner 2 last month.
The week-long training package in Staffordshire introduced the officers to some of the challenges they could face in the near future and they gained valuable experience of operating together on a grand scale:
This exercise has been a very good run out for us," said ARRC Commander Lieutenant General James Bucknall.
The last time we deployed in the field like this was in 2009. After that it was specific training for Afghanistan, so we have had to relearn a lot of old lessons.
We have got people coming back from theatre and we now have to knit them together as a headquarters.
This exercise has illustrated how much work we still have to do, but our officers have vast individual experience and they are picking it up very well.
The serial tasked personnel with running a stabilisation campaign in a fictitious country known as Arnland. While working to achieve this goal they faced additional challenges such as IED strikes, a downed helicopter, road traffic accidents, radio disruptions and the theft of weapons:
The idea behind this is to get the relevant processes working within the headquarters," explained Brigadier David Paterson, the ARRC's Chief of Training.
We have to make sure our people know who they have to talk to and how they should interact with various air, maritime and [other] capabilities.
At this stage it is pretty low-level stuff but it is enough to get the thought processes flowing in the cycle.
The Gloucester-based formation faces a sterner test of its credentials in a final certification exercise later this year and Chief of Operations, Lieutenant Colonel Adam Edmunds, believes the initial training will hold them in good stead. He said:
We have a lot of people with experience of southern Afghanistan, so we need to check that the procedures we have in place are appropriate.
We need to prepare for a range of potential missions, some of which will be at the softer end of military life.
This is about familiarisation and identifying areas for further work, so it has been a worthwhile exercise.
The beauty of a headquarters like this is that there is a vast array of nationalities and military cultures. We have to harness that expertise to meet our goals.
While the officers within Headquarters ARRC were tested on their specific roles, a host of supporting units were on hand to ensure the exercise ran smoothly.
More than 80 soldiers from 22 Signal Regiment were responsible for installing telephone lines, computers and email systems ahead of the serials, before offering 24-hour technical support throughout the training:
We had to have all this ready for when the staff arrived on site," said Lieutenant Phil Taylor. "Our aim was to make this as seamless as possible, but there are always going to be some problems.
The regiment has been learning and training for the past six months without a full deployment, and this has been our first opportunity to get out.
The lads have been tested and they have taken a great deal of job satisfaction from what they have been doing.
Elements of the ARRC Support Battalion also deployed to Staffordshire to ensure the necessary preparations were made prior to the exercise commencing.
Security checkpoints, force protection and tented accommodation were all provided by soldiers from 23 Pioneer Regiment, while Royal Logistic Corps chefs fed up to 700 troops a day. And personnel from the Royal Engineers operated and maintained 36 generators and were responsible for setting up power cables, lighting and heating:
We have had to modify some kit to make it work and it should have been a lot more comfortable than it has been," explained Sapper Neale Baldwin. "But we will take a lot from this in terms of training value. We can reflect on what has happened and learn from it.
This is the first time we have been on this exercise. We have got a few new guys in the troop and they have never seen anything on this scale before.
This report by Richard Long features in the June 2012 issue of Soldier - magazine of the British Army.
Published 8 June 2012