Multinational forces take part in Helmand football competition
Five teams made up of troops from Afghanistan, Bahrain, Denmark, the UK and the US took part in a football challenge on a dusty pitch in Helmand last week.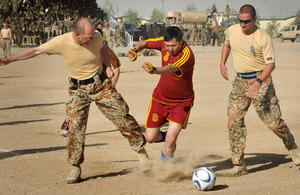 The competition took place at Camp Shorabak, the Afghan National Army base neighbouring Camp Bastion in Helmand province, where new Afghan Army recruits arrive each week for further training by more experienced Afghan troops and their ISAF partners.
The event was organised by Flight Lieutenant Steve Carroll from the RAF's No 4 Force Protection Wing, who are involved in providing security and protection for Camp Bastion and its vast array of multinational troops.
The first match saw Afghanistan take on Denmark. All expectations for a close game were swiftly set aside when the Afghans quickly went 2-0 up. Their dominance continued throughout and they ran out easy 5-0 winners.
The second match was a much closer affair between the UK and the US, something of a grudge match following this summer's World Cup. It took a penalty after a cynical trip in the box to decide the outcome, scored by the British team after the ball rebounded off both posts.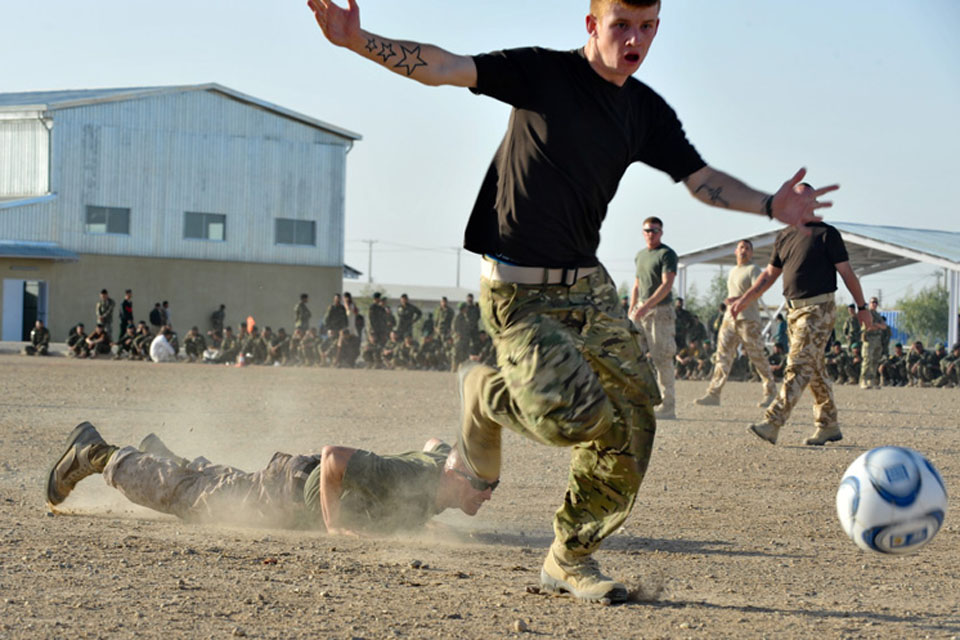 As the shadows began to lengthen, the Afghanistan and Bahrain teams took to the pitch to decide who would meet the UK in the final. A tightly fought contest ensued, with the score finishing 0-0 after full-time. Penalties beckoned and the passionate Afghan fans celebrated wildly as their team won 4-2 on spot-kicks.
After a plate final between Denmark and the US that finished goalless, it was time for the decider. The Afghan team were the hot favourites, but it seemed that the extra match had taken its toll. A handball on the goal line gave the British an early penalty, which was confidently converted.
The Afghans continued to press to find an equaliser, but a post-half-time mix up in defence allowed the UK team to double their lead and they ran out easy, but not always convincing, 2-0 winners.
At the end of the day it was clear that everyone had thoroughly enjoyed themselves, and plans for a follow-up tournament were already underway. While the UK had won the tournament, the real win from the day was the sense of camaraderie and partnership displayed among all the teams.
Published 13 October 2010