Multinational force gathers in UK for Exercise Joint Warrior
Europe's largest military exercise has got underway as a multinational ensemble of sea, air and land forces battle it out around the coast of the United Kingdom as part of Exercise Joint Warrior.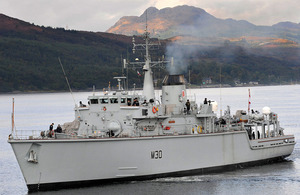 Over the next two weeks 8,000 servicemen and women will take part in the exercise which involves personnel from 14 nations, thirty ships, three submarines, seven helicopter units, 14 land-based air units and 11 separate ground forces.
Exercise Joint Warrior is a UK-wide, tri-Service exercise conducted in spring and autumn each year.
The exercise scenario involves three sovereign nations, disputed territory and terrorist movements. Commencing with a period of force integration training the exercise will develop over two weeks, through a period of tension, into simulated war-fighting and open hostilities.
In addition to the UK the other countries taking part are the United States, Canada, Italy, France, Estonia, Spain, Poland, Belgium, Turkey, the Netherlands, Norway, Sweden and Denmark.
HMS Ark Royal sailed into Faslane on Friday 1 October 2010 to take part in the exercise and the naval base will play host to 15 more ships, meaning that Faslane and Glasgow's King George V Dock will have 28 ships tied up between them.
Other UK-wide destinations for the 'players' are Liverpool, Loch Striven, Campbeltown, Leith, RAF Lossiemouth, RAF Kinloss, RAF Marham, RAF Waddington, RAF Lakenheath and RAF Leeming.
The flying, of course, will cover large parts of the country and people are being warned not to be alarmed if they see unusual military activity.
To meet the many and varied training needs of the participants Joint Warrior facilitates a very broad range of crisis and conflict scenarios including counter-insurgency, state-sponsored terrorism, counter-narcotics and state-on-state conflict, all of which help train Joint Warrior participants across the air, maritime and land environments in the many and varied skills that are required of today's modern Armed Forces.
It should be noted that the Ministry of Defence has decreed that environmental considerations will always be considered when planning exercises to meet training objectives; this direction remains a primary consideration throughout exercise planning and execution.
Published 5 October 2010