World news story
Multi-national Disaster Management Workshop in Havana
The United Kingdom hosted a multi-national Disaster Management Workshop on board a visiting UK ship – RFA (Royal Fleet Auxiliary) Lyme Bay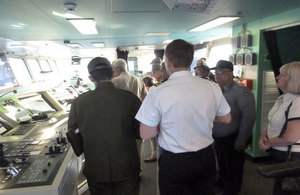 On 30th November, the United Kingdom hosted a multi-national Disaster Management Workshop on board a visiting UK ship – RFA (Royal Fleet Auxiliary) Lyme Bay, captained by Kim Watts. RFA Lyme Bay was berthed in Havana Cruise Ship Terminal from 27 November to 1 December.
The workshop brought together representatives from the UK, including the Defence Advisor to the Caribbean Patrick Brown, and the British Consul Jane Atkinson; from Cuba (Ministry for Transport, Ministry for the Armed Forces, the Navy, and from Civil Defence); and observers from Canada, the United States, and Russia.
Officers from RFA Lyme Bay discussed their recent humanitarian and disaster relief work in Dominica, following Tropical Storm Erika, and in the Bahamas following Hurricane Joaquin. The workshop then went into a detailed discussion about possible disaster scenarios in the Caribbean, and possible responses.
British Ambassador to Cuba, Tim Cole, said ' This was an important first step in increasing cooperation between the UK and Cuba on how we respond to natural and man-made disasters. The UK, like other countries present at the workshop, has an increasing number of tourists coming to Cuba, so it is in all our interests to cooperate more and share information. I hope this is the first in a number of useful exchanges. RFA Lyme Bay provided an ideal venue, with workshop participants able to view up close some very impressive disaster relief vehicles and equipment – recently put to such good use in Dominica and the Bahamas. We are also grateful to Cuba for hosting an earlier meeting at their Civil Defence Headquarters, in which Cuba described its management of search and rescue operations'.
Published 21 December 2015