News story
Multi-million pound fund for cities to take driving seat in green car revolution
Cities across the UK can now take advantage of a £35 million fund to promote the uptake of ultra-low emission vehicles.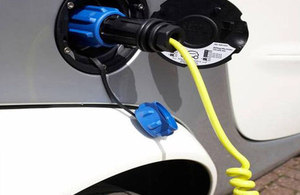 Local authorities are invited to bid for a share of the £35 million go ultra low city scheme which they can use in a range of ways to support ultra-low emission vehicles (ULEVs), such as installing charge-points for electric cars and introducing low emission zones.
Other measures they can use the fund for include changing planning rules to make it easier to install electric vehicle charge-points, trialling new technology and encouraging workplace schemes.
Up to 4 cities with the best proposals stand to get a share of the money. Not only will the fund help improve air quality across the country but it will boost local economies by creating more jobs.
Transport Minister Baroness Kramer said:
This £35 million funding is an unequivocal signal from government that we are committed to improving air quality and making ultra-low emission vehicles a practical and viable choice for more people.

I would like to encourage local authorities to take up this fantastic opportunity. This can help to transform people's quality of life in their cities and build a stronger economy.
The 'Go Ultra Low City Scheme' complements other schemes to support low emission vehicles schemes, such as the £30 million bus scheme and the £20 million taxi scheme. It amounts to a comprehensive package of government support to encourage more environmentally friendly travel.
The government provides £500 million support for the ULEV market and infrastructure. Through the Go Ultra Low campaign it is also working with the motor car industry to explain the benefits and performance features of ultra-low emission vehicles, which include electric and plug-in hybrid vehicles.
All new vehicles will have some kind of ULEV element by 2040 and there has been a steady rise in the number of people taking up low emission vehicles, as more models become available. Driving costs are as low as 2p per mile and there are now over 7,000 publicly accessible charge-points installed at nearly 3,000 locations across the UK. By the end of the year almost every motorway service station will have a rapid charger.
Deadline for submitting outline bids is 20 February 2015.
Shortlisted cities will be invited to submit final bids by end of August and the winner will be announced in the Autumn of 2015.
Out of office press office contact: 0207 944 4292.
Published 26 December 2014