News story
Multi-million-pound drug bust for HMS Somerset
The Royal Navy has seized an £8.5 million haul of heroin after a raid on a suspect vessel in the northern Arabian Sea.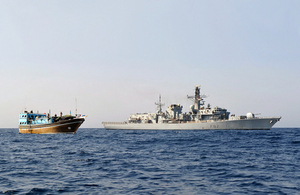 Nearly 60 kilograms of heroin were seized by sailors and Royal Marines from HMS Somerset, who intercepted the fishing boat in Royal Navy fast boats.
HMS Somerset's crew found the dhow, a type of vessel common to the Middle East and Indian Ocean, during an operation for the Combined Maritime Forces (CMF) counter-terrorism Combined Task Force (CTF) 150.
Royal Navy Commodore Jeremy Blunden, commander of CFT 150, said:
I am delighted that HMS Somerset has made this interception and I offer my congratulations to Commander Smith and his team for finding this well hidden contraband in difficult conditions.

This is the ninth seizure of heroin that CTF 150 has made this year as part of a determined effort to combat both the flow of heroin across the Arabian Sea and Indian Ocean to east Africa, and funding to terrorist organisations. The destruction of the drugs will reduce key funding lines for known terror groups.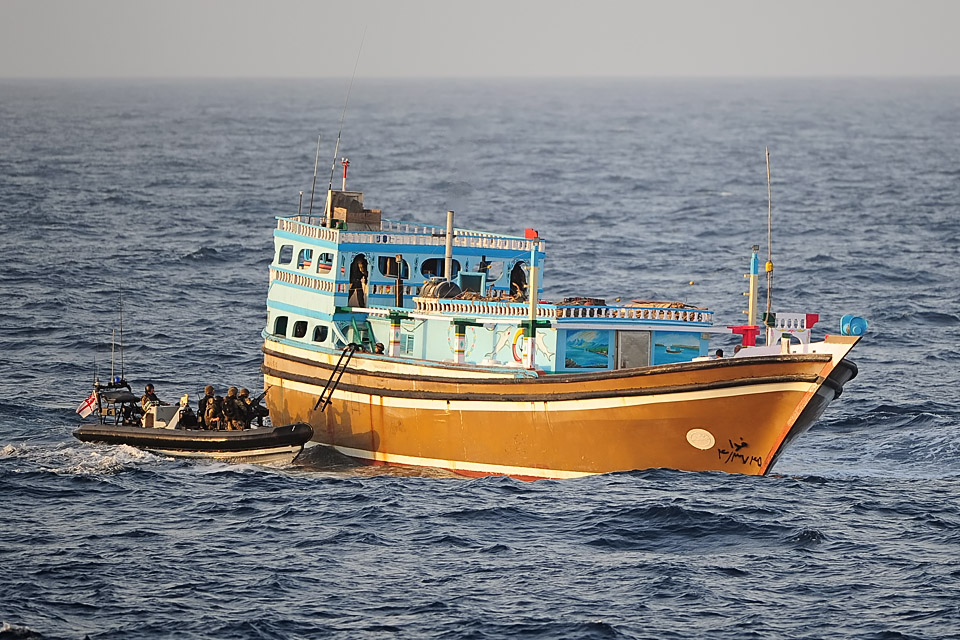 HMS Somerset's Lynx helicopter was launched to intercept the dhow and guide the boarding team to its exact location.
Once on board, the Royal Navy team worked tirelessly for 23 hours to find the contraband's hiding place, stashed under a false deck.
The drugs were then brought on board HMS Somerset, where they were tested for purity before being destroyed.
Commander Mike Smith, commanding officer of HMS Somerset, said:
HMS Somerset's recent success at intercepting a vessel smuggling heroin is a great example of what the Royal Navy does best; full-hearted commitment to the task, courage and teamwork were central to halting this shipment of illegal narcotics.

I am incredibly proud of what my team have achieved, not only today, but also for their efforts throughout the last 5 months of operations in the Middle East.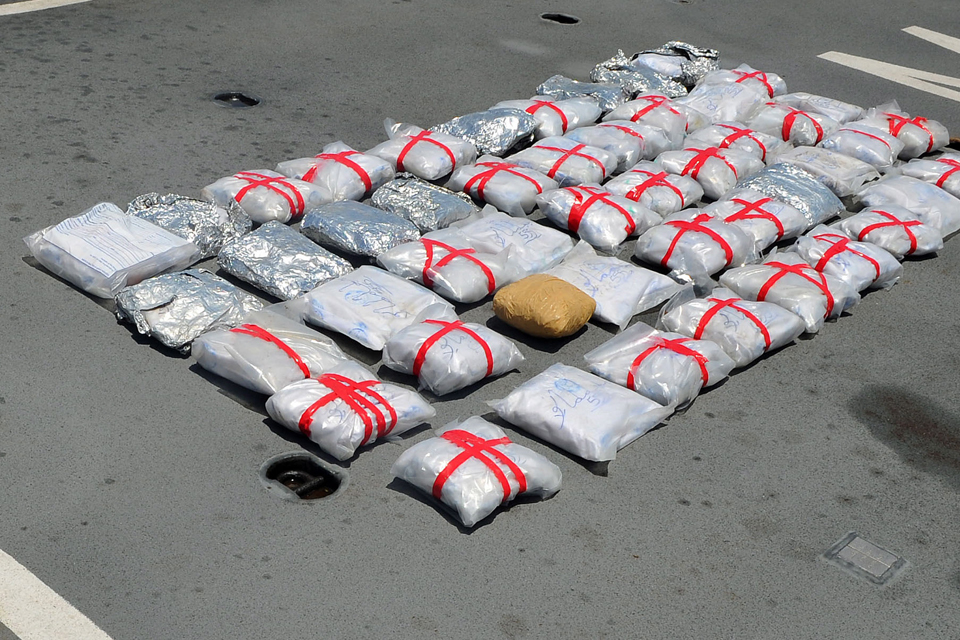 HMS Somerset passed through the Suez Canal at the beginning of the year and has since carried out maritime security patrols in the busy trading regions of the Gulf and the Indian Ocean. The Type 23 frigate's first drugs haul this deployment came only a few days after joining CTF 150.
Combined Task Force 150 is one of 3 international naval task forces operating under the CMF banner in the Middle East which aim to counter terrorism, piracy and all related illicit activity across more than 2.5 million square miles of ocean.
Published 28 May 2014