MRI scanner centre opens in Bastion Hospital
The UK-led Anglo/American Role 3 hospital at Camp Bastion, Helmand province, has celebrated the opening of its first magnetic resonance imaging (MRI) scanner centre.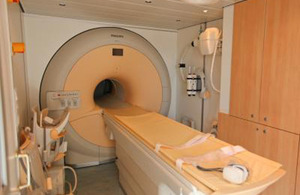 The advanced imaging machine will enhance the hospital's ability to diagnose and care for personnel who have experienced a variety of injuries, including concussions, traumatic brain injury and other head injuries:
This machine adds diagnostic capability to our concussion rehabilitation centre so that service members with anything from concussions to serious head injuries can be scanned," said Lieutenant Colonel Martin Bell, Deputy Medical Director for Regional Command (South West) [RC(SW)].
This can ultimately provide us with a much better idea of how to treat them.
By design, the MRI is a leading state-of-the-art diagnostic machine. Using radio waves and magnetic fields, the machine produces transparent images of organs, bones and musculoskeletal tissue inside the body.
The arrival of the MRI scanner will enable a more in-depth treatment of injured personnel in theatre:
Everything we do here at Camp Bastion is in an effort to provide the highest standard of care that we can to our wounded warriors," said Commander Carol Betteridge Royal Navy, Role 3 Hospital Commanding Officer.

Not only will this help us with an increased clinical capability but it will be able to provide us with any sort of research that we may need while treating a patient here.
The MRI scanner centre was ceremoniously opened for business with the cutting of a ribbon, conducted by Commander Betteridge and Major General John A Toolan, Commander of RC(SW).
Following words from General Toolan and the cutting of a celebratory cake, the MRI scanner centre became operational.
Published 2 November 2011