World news story
Mr Hisashi Hieda honoured by The Queen
In recognition of his contribution to promotion of British culture and art in Japan, Tim Hitchens, the British Ambassador to Japan, conducted an investiture ceremony for Mr Hisashi Hieda at the British Embassy Tokyo on 21 January.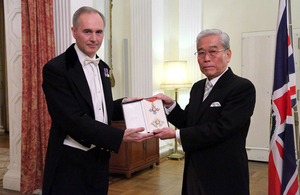 Under Mr Hieda's chairmanship, Fuji Media Holdings and Fuji Television have for many years been introducing a wide range of UK-made TV content to audiences in Japan, including Thomas the Tank Engine and other TV programmes and series on British culture.
As chairman of the Japan Art Association, Mr Hieda has also played a role in recognising the significant cultural contributions of British talents in the fields of painting, sculpture, architecture, music theatre and film thanks to the Praemium Imperiale awards, which continue to encourage and nurture the UK's future creative talents.
Published 25 November 2013