Mr Fernando Bangit honoured by The Queen
In recognition of his outstanding service to the British Embassy Tokyo, Her Majesty The Queen has conferred upon him an Honorary British Empire Medal.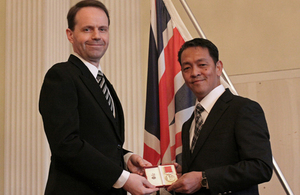 Mr Fernando Bangit joined the Embassy in the early 1990s. Throughout his long service, he has done almost every support job possible in the Embassy. He has an unrivalled knowledge of a complex historical estate, and can turn his hand to anything.
He is always ready to help, no matter night or day. For generations of colleagues, both UKBS and LE, Fernando is the person they can rely on to help when things go wrong. Whether supporting events set-up, dealing with emergencies or keeping up morale with his infectious good humour, Fernando has made an indelible contribution to the life of the Embassy.
Published 14 February 2018