Prime Minister David Cameron has secured comprehensive support from MPs for the military intervention in Libya.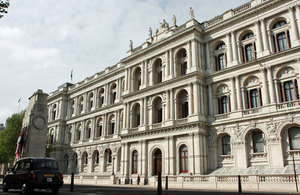 MPs voted by 557 to 13 in favour of the use of the armed forces to implement the United Nations Security Council resolution.
During yesterday's debate, the Prime Minister told MPs it was "necessary, legal and right" to have instigated military action to stop Muammar Gaddafi attacking his own people.
The Prime Minister also stressed all military attacks on Libya will be "fully consistent" with the United Nations mandate.
The resolution authorises the international community to employ "all necessary measures" to enforce a no-fly zone over Libya and to protect civilians from attack.
The Prime Minister said:
"Let me say this about the issue of targets: targets must be fully consistent with the UN Security Council resolution.
"We therefore choose our targets to stop attacks on civilians and to implement the no-fly zone."
He stressed that the UN Mandate was to protect Libyan civilians and that it was up to them to choose their future.
"We have to be clear. We are not talking about an invasion or an occupying force, we're talking about taking action to protect civilian life."
Published 22 March 2011